Super League
Euronuts Boys crowned Central Region champs of the 'Chapa Dimba' tourney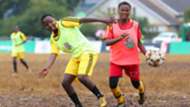 Euronuts boys and Limuru Starlets both from Kiambu are the winners of the Chapa Dimba Na Safaricom Central Region titles.
Euronuts triumphed after putting up a striking match against Lufa from Kirinyaga scoring 1-0 within the regulation time. Limuru Starlets on the other hand won the girls category after beating Rwambiti from Kirinyaga 6-0 with Millicent Njoki scoring four goals in the one sided match.
It was goals galore as the wet and muddy pitch played to the disadvantage of both teams having to adapt to the cold and rainy weather on Sunday. "We anticipated this win from the beginning of the tournament and this is a dream come true.
"Our team has worked very hard to reach this far and the future looks bright. We are certain of good results in the National finals and we look forward to winning the ultimate prize. We are truly excited," said Millicent Njoki, top scorer for Limuru Starlets.
The winners have now joined other teams from the Rift, Eastern, Nyanza, North Eastern, Coast and Western regions for the national finals set for 24th and 25th of this month at Bukhungu Stadium, Kakamega County.
The winners each received a cash reward of Sh200, 000 and will now represent Central region at the grand finale where the winning team will walk away with Sh1 million each and an opportunity to go for an international training and mentorship camp in London in April 2018.
"We congratulate all the teams that begun this journey on of January 13 in Aberdares for giving it their best. We are also proud of the winners today and wish them all the best in their quest for national victory.
"As a company, we are dedicated to transforming the lives of the Kenyan youth and that is why we support ventures that directly relate to them. This tournament squarely depicts that," said Sylvia Mulinge, Director - Consumer Business, Safaricom.
Safaricom has invested Sh100 million towards the program which includes Sh10m worth of prizes as well as funds for renovation of select community pitches through a legacy programme.