Egypt
Egypt coach Javier Aguirre wary of Niger in 2019 Afcon qualifier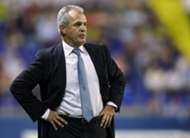 New Egypt coach Javier Aguirre says he is aware his side faces a big task when they host Niger in their second Afcon qualifier next month.
Following his appointment early this month, the Mexican inherited a Pharaohs side that was edged 1-0 away by Tunisia in their opening 2019 Africa Cup of Nations (Afcon) qualifier.
Aguirre replaced Belgian Hector Cuper who led Egypt to a winless campaign at the Fifa World Cup in June.
Aguirre, who is in his first ever job on the African continent, has stressed the importance of the Niger tie as a must-win for Egypt.
"Everyday I watch videos of Egypt at the World Cup and the qualifiers as well as friendly matches," Aguirre was quoted as saying by Kingfut.
"I started to get to know the players who participated in the last stage. There are 17 players playing outside Egypt and that's important.
"The Niger match will be an important one because it will be at home and in the qualifiers of the African Cup of Nations.
"We have to win. We lost the first game to Tunisia and therefore they are three points ahead of us. It is important to start my Egypt career with a win."
Meanwhile, former Under-23 coach Hany Ramzy has been appointed as Aguirre's assistant.
This comes after the Egyptian Football Association had first contacted Mido to understudy Aguirre but could not reach an agreement with the former Pharaohs striker.