Mahmoud Al Amenah
East Bengal's Mahmoud Al Amna - 'Kolkata is the mother of Indian football'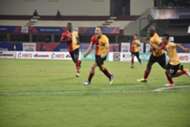 Old foes East Bengal and Bengaluru FC lock horns in the grand finale of the inaugural edition of the Super Cup on Friday at the Kalinga Stadium, Bhubaneswar.
Goal caught up with East Bengal midfielder Mahmoud Al Amna and the Syrian midfield maestro spoke on a plethora of topics ranging from the best Indian players in the two teams and why he thinks Bengaluru FC are the best in India. 
Q: What has been the experience of playing for a big club like East Bengal like?
This is my fourth season in India, first season in Kolkata. Kolkata love football, there is much more pressure but that is fine. I have enjoyed my stay at East Bengal this season.
Q: You also played in Goa and Aizawl before coming to East Bengal. How different is the experience of playing in Kolkata compared to other two places?
Everywhere the scenario is different. In Goa there is no pressure, I enjoyed there. The weather is different. In Aizawl, I won the championship and there was hardly any pressure again. It was all about enjoying but here in East Bengal, it is a big club and every time you must perform, get good results and play good football. Kolkata is the mother of Indian football.
Q: What went wrong in I-League this season for the East Bengal?
We had a chance of winning the title till the last two matches. But this happens. This is the league, this is football where maybe some small mistake on the pitch can affect the result. Like in the first match of the season against Aizawl FC, we were leading 2-0 and then in the last moment we conceded and drew 2-2. The league is now finished and we are only thinking about the Super Cup.
Q: The Katsumi Yusa-Mahmoud Al Amna duo has been the backbone of this East Bengal side. Tell us about your partnership with Katsumi.
Katsumi (Yusa) is a good player and good person. He has a lot of experience playing in India and Kolkata. The partnership has been good for me and for the team of course.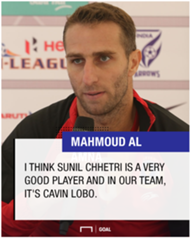 Q: According to you, who are the best Indian players at the moment?
I think Sunil Chhetri is a very good player and in our team, it's Cavin Lobo. I have played with so many good players especially last season when I played in Aizawl. I liked Jayesh Rane, Ashutosh Mehta and there are so many other good players.
Q: What do you think are the major differences between I-League and ISL?
Certainly, there is a difference between I-League and Indian Super League (ISL). Starting from coaches to players everyone is good in ISL. The media coverage is also there. They have good stadiums and the timings of the matches are convenient. In the I-League we had to play at 3 PM or 4 PM in too much heat. This is different. But if you consider the football, there is not much of a difference. The quality is not different.
Q: Tell us about the Bengaluru FC side which you faced last season and the Bengaluru team of this season. 
For me, Bengaluru FC are the best team in India. They are a very professional side. When I came to India, three or four seasons back I have been watching them. They are a very good team.  From last season if I have to compare, they have the same coach but some new players have come in. They have very good players this season like Miku. Bengaluru FC are a much better side now as compared to last season.
Q: How have you prepared for the Super Cup final against Bengaluru FC? Who are their main players according to you?
They have very good players especially Miku and Sunil Chhetri. They have a very good midfield as well. They came back strongly in the second half against Mohun Bagan. This Bengaluru FC is a quality side. But if I have to pick two main players, it has to be Miku and Chhetri.