Juventus
Dybala-inspired Juventus as domestically dominant as Bayern and better run than Barcelona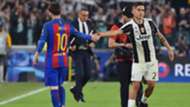 ---

SPECIAL REPORT
---
Despite announcing himself as a bona fide superstar with his double in last week's battering of Barcelona, Paulo Dybala did not have any second thoughts about committing his future to Juventus just two days later.
Why Dani Alves' Barca love affair ended
In fact, the comprehensive 3-0 victory over the Blaugrana only strengthened the Argentine's belief that he is already representing one of the game's top teams. "Juve have no reason to be jealous of Real Madrid, Bayern Munich or Barcelona," the 23-year-old declared after extending his contract with the Old Lady until 2022.
As the most recent Deloitte Football Money League underlined, the Bianconeri still have some way to go before they can claim to be operating on the same financial plain as Europe's elite but Juve are now more competitive - on and off the field - than they have been at any point during the past decade.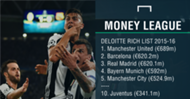 Indeed, when Andrea Agnelli was installed as president in 2010 - becoming the fourth member of his family to hold the position but, crucially, the first since his father Umberto's reign ended in 1962 - the club was still suffering from the effects of Calciopoli, having been relegated to Serie B in 2006 for their role in the refereeing scandal that rocked Italian football.
Juve finished seventh at the end of Agnelli's first campaign in charge, prompting the new president to dispense with the services of Luigi Del Neri in the summer of 2011. However, he retained the utmost faith in the two other men he had hired after his inauguration, director general Beppe Marotta and sporting director Fabio Paratici, and, together, they set about revamping the club.
Antonio Conte was brought in as coach and, with a squad strengthened by a succession of sensationally shrewd singings - including Andrea Pirlo, Arturo Vidal, Paul Pogba and Carlos Tevez - the former fan favourite led Juve to three consecutive Scudetti.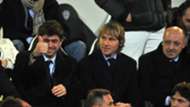 The Bianconeri continue to primarily practice prudence in the transfer market but, in the past two years, they have been more willing to flex their financial muscle, agreeing a €40m deal with Palermo for a then-unproven Dybala in 2015 before paying
Napoli
a staggering €90m for the then 28-year-old Gonzalo Higuain last summer.
The latter transfer was primarily about acquiring a player capable of firing Juve to Champions League glory but it was also a significant show of strength, proof that the Bianconeri could once again pay premium prices for premium players.
That is arguably Agnelli's greatest source of pride. At the end of his first season in charge, Juve had slipped to 13th place in the Deloitte Money League - a new low for a club that occupied a place in the top 10 for the first decade of the report's existence (between 1996-97 and 2005-06).
Allegri: Juve must play to win
The Old Lady's income at the end of 2010-11 campaign was €153.9m. Last September, they posted a record turnover for the second consecutive financial year (€387.9m), with a net profit of €4.1m. Admittedly, Agnelli's Juve have benefited enormously from their predecessors' inspired decision to construct a new home.
The Juventus Stadium has a far smaller capacity (41,000) than the Stadio delle Alpi (67,000) but it offers compelling evidence that less is more. Whereas the average attendance at the Delle Alpi, was only just over 20,000, the Bianconeri are now getting crowds of 39,000 on a weekly basis. Matchday revenue has consequently quadrupled since 2010-11, Juve's final season at their temporary home Stadio Olimpico.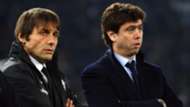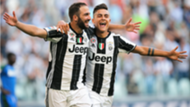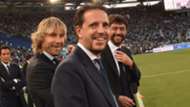 Sporting success has become intertwined with financial success, with Juve set to claim their sixth successive Scudetto since moving into Juventus Stadium. Essentially, a new ground coupled with a strong squad has made the Old Lady an almost unstoppable force in Turin.
They have won their last 16 games at home in all competitions, and are unbeaten in European competition in their own backyard since April 2013. This is a remarkable statistic when one considers that Juve had to completely overhaul the side that reached the Champions League final in 2015.
Of the 15 players that Massimiliano Allegri used that night in Berlin, nine are no longer at the club while only two of those who are still there (Giangluigi Buffon & Leonardo Bonucci) could still be considered certain starters.
That merely underlines Marotta's mastery of the market, with Juve having successfully used the funds raised from the sale of players previously considered irreplaceable (Paul Pogba) to strenghten - rather than weaken - their standing.
Dani Alves rules out Barca return
Juve have been making the right calls, from both a sporting and financial perspective because, according to Agnelli, they have never lost sight of what is important.
"Our financial growth has been significant," he stated last October, "but my vision on the management of a high-level professional club is based on a basic concept: football above everything else."
That is why they are both winning games and making money during a dire period for Serie A - no other Italian side has made the last eight of the Champions League in the past five years; Juve have now done it thrice.
As Agnelli has pointed out, far too many stakeholders in calcio are more interested in making a fast buck than proper reconstruction.
"The Italian systems thinks about earning one or two million today rather than 10 million tomorrow," he argued in 2015.
"Our system needs to find stability. The largest investments that are made in Italy are often targeted at players, which does not allow to invest wisely on youth sectors and structures."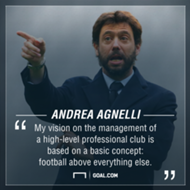 That is why Juve are not only investing heavily in an academy that had, until the emergence of 16-year-old sensation Moise Kean, not produced a first-team player since Claudio Marchisio but also targeting talent that cannot yet walk – let alone run!
Much to Agnelli's pride, Juve now have a sponsorship agreement in place with Checco, an Italian franchise that sells baby clothes and accessories. "The deal is important because a partnership with a brand for children has never been seen before," he enthused last year.
Juve have also been weakening their rivals by buying their best players (as well as Higuain, Miralem Pjanic also arrived in Turin from Roma last summer) and picking up the most promising young players in Serie A (a deal has already done with Atalanta for defender Mattia Caldara).
However, the Bianconeri do not want to be the new Bayern, dominant domestically but always falling short when faced with Liga's finest in continental competition. They want to become a well-run Barca.
That means further broadening their fan base – Agnelli was delighted by the fact that the Champions League games that drew the biggest television audiences in China last season were the final and Juve's two meetings with Bayern in the last 16 – but also winning the Champions League.
The Bianconeri are acutely aware that Barca would not be the force they are today had they not beaten Arsenal in the 2006 final, a victory that laid the foundation for an unprecedented era of success for the Catalan club.
Thus, while Dybala is right that Juve are no longer jealous of the Blaugrana's playing squad, they remain envious of their European exploits.
Eliminating Barca from the Champions League on Wednesday would thus be a significant step towards the Old Lady's goal of proving herself to be both a formidable financial and footballing force for the first time in nearly 20 years.