NPFL
Deutsche frustrated by goal-shy Abia Warriors after Enugu Rangers draw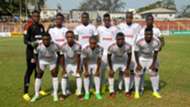 Abia Warriors head coach Emmanuel Deutsche is concerned by his forwards' inabilities to score goals following Sunday's 0-0 draw with Enugu Rangers. 
The Ucendu Warriors were smarting from a 1-0 loss to rivals, Enyimba, and hoped for a win but only settled for a draw with the Flying Antelopes, failing to score in three games in a row.
And the gaffer, who joined after few games into the season, has exonerated himself from the faulty recruitment but is hopeful things get better before the transfer window reopens.
"It's too bad because I don't want to say I was not the one that recruited the players but I think everyone can see how we've turned out on the pitch," Deutsche told Goal. 
"If we can play three-man defense and nobody can get us the goal in Calabar against Enyimba and we conceded in the 78th minute through a goalkeeper error and same happened in Kano. 
"All the games we've played, we used a 3-5-2 formation but we still can't score goals. I really don't understand. 
"I don't know why the boys are showing lack of maturity. I cannot go to the transfer market anymore as I have to continue with what I have and hope things improve.''
"If there is a chance to go to the market, I would hope to sign better and taller attackers. My attackers are short, unlike Rangers who have tall and huge players from attack to midfield and defense. I can't blame my players because they still need to gain some experience," he continued. 
"I have lost two points and we have only got eight points from seven games. The fans don't seem to understand that I am not new to this job because I've been around for a while.  I rescued Akwa United and then (defunct) Juth when with 12 points at the end of first round. 
"I don't know, maybe it is a psychological problem because they scored two goals against MFM and against Plateau United but I'm surprised that we had many chances in Calabar against Enyimba but we could score and we conceded a terrible goal.
"We play three-man defense and teams find it difficult to score us. I didn't come here with any player but I will keep working with the available players and hope things improve."