Eredivisie
Dutch footballer hospitalised in hit and run incident, fans 'arrest' suspect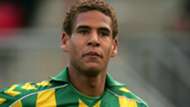 Eredivisie club Utrecht have confirmed defender Ramon Leeuwin has been taken to hospital after an incident involving a scooter.
Alexis Sanchez: I know my future
The 29-year-old was struck by the vehicle near the club's training ground, Sportcomplex Zoudenbalch, on Friday.
Leeuwin was taken to the University Medical Center Utrecht for treatment but no further details about his condition were provided.
A Utrecht statement said Leeuwin's team-mates and supporters of the club apprehended the rider of the scooter after they attempted to leave the scene of the incident.
10 seconden na deze foto met Sem werd Leeuwin aangereden. De fotograaf, toevallig ambulanceverpleegkundige, schoot gelijk te hulp. Bizar. pic.twitter.com/9xnUa9hCy1

— SV FC Utrecht (@SVFCUtrecht) June 30, 2017
After the incident, an Utrecht supporter posted a picture of Leeuwen with a fan which was taken just before it took place.
"Ten seconds after this photo was taken, Leeuwin was hit. The photographer, an off-duty paramedic, rushed to help. Bizarre," the fan tweeted.