Premier League
Doping allegations launched against Ghanaian players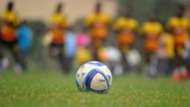 Veteran Ghanaian coach JE Sarpong claims players in the local topflight use substances to enhance their performance.
According to the former Ghana under-23 assistant coach, football authorities in the country are yet to take the matter seriously.
"Some players do take drugs to play football in Ghana, but our coaches find it difficult to control it because these players are usually the best players in their teams and you cannot sack or punish them," Sarpong told GNA.
"I know the coaches need the result badly, but they must talk to their players to desist from such bad acts because it is going to shorten their career as footballers."
Sarpong has had stints with top tier sides such as Liberty Professionals, Aduana Stars and Ebusua Dwarfs.
"As an experienced coach in Ghana, I have never heard the Ghana Football Association talking about an anti-doping system," he added.
"There's nothing like that in Ghana football. No player's blood or urine sample has been taken by the GFA to be tested, [and this] is not good for the development of our players.
"We do not get the best out of our players because we don't care about what they eat or drink, how many Ghanaian clubs have dieticians? 
"Our players can eat hot pepper just some few minutes before game starts, [and this] is harmful to their health."
In September last year, Fifa extended bans globally in doping cases involving six players from Africa, Asia and Europe.