Ghana
Donsah eyeing second Ghana opportunity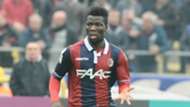 Bologna midfielder Godfred Donsah is hoping to get another call-up to the Black Stars following a missed chance two years ago.
Following a good outing at the 2015 Fifa Under-20 World Cup in New Zealand, the 21-year-old earned his maiden invite for a friendly fixture with Congo but an injury prevented him from honouring the call.
And ahead of the new season, the youngster has set sights on winning a second chance under new Ghana coach James Kwesi Appiah.
"I am still waiting for another invitation to play for my country, and not worried about the Black Stars' snub," Donsah told Space FM.
"It depends on God because he is the one who knows the best for everybody on the earth.
"And I am ready to play for the team anytime they invite me."
Donsah's lack of recent Ghana opportunity could be explained by his disappointing campaign last season.
Following a good first term with Bologna in 2015-16, the youngster was largely weighed down by injuries last season.
The former Hellas Verona man made 13 league appearances as the Red and Blues finished 15th in the Serie A.