CONCACAF Champions League
Depth still a difference between Liga MX, MLS teams in Concacaf Champions League
It was scoreless in the first leg of the Houston Dynamo's Concacaf Champions League quarterfinal contest against Tigres when both managers began to make their second-half adjustments.
Tigres manager Tuca Ferretti surveyed his bench and had his pick of a current Mexico international defender, a former Argentina international midfielder and a veteran Liga MX fullback. He went with the Argentine, slotting former Sevilla man Guido Pizarro into the midfield in the 62nd minute. 
Dynamo manager Wilmer Cabrera's first sub, made five minutes later, was Marlon Hairston. Nothing against the Mississippi native, but he's a fringe U.S. international who hardly has the reputation of a player like Pizarro.
There are several things still separating the elite of the elite in Liga MX with MLS' best. One of the biggest is depth. Tigres and Monterrey were built to win both Liga MX and the Concacaf Champions League, with Tigres looking to win its first international title and Monterrey hoping to extend its dominance in the regional competition.
To that end, these teams have built squads where they easily can rotate players for midweek games and see only a small drop in quality. Ferretti has a team in which there is always competition for places. He has players he barely uses who would start for nearly every other team in the Americas (Chilean forward Eduardo Vargas chief among them). 
"It's a good opportunity, having two good players at every position," Ferretti said after his team topped the Dynamo 2-0 last week behind a pair of late goals. "When you have two good players in every position, one always is going to feel bad, but they know perfectly well that they're my friends, they're my 'sons' off the field.
"I look to put together the XI that will be best for the team. Understandably, some of them aren't happy. The one who plays is very happy, the one on the bench, you know what he feels. But they know perfectly well that the only chance they have to show is on the training ground and in the matches.
"I'm going to be fair with the team, and whoever I think is best I'm going to put in. There are times both are good in the same week, but I have to pick one. FIFA doesn't give me the chance to play with 12 or 14!"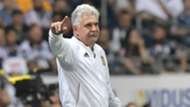 You won't hear many MLS managers petitioning the governing body to allow it to toss more players on the field in international action. While Ferretti has been able to put his best player, forward Andre-Pierre Gignac, on the shelf for the entire tournament as the Frenchman copes with a niggling knee injury, Dynamo manager Cabrera has needed to be judicious with minutes for Alberth Elis and Mauro Manotas in league play as he seeks to keep them fresh for the CCL. Cabrera's MLS rivals are doing the same.
MLS has been looking for ways to deal with its lack of depth compared to its regional rivals in recent years. While the designated player rule had been in place for seven years in 2014, when three MLS teams faced Liga MX teams in the CCL quarterfinals and all three fell short, it was clear more needed to be done.
"I think you see the difference in the leagues on nights like tonight," Landon Donovan said after his LA Galaxy were bounced by Club Tijuana that year. "We've got probably six, seven, eight guys who are mature, who know how these games are. They've got 20 guys who know how these games go. And that's the difference between the payrolls."
Now the league has mechanisms like Targeted Allocation Money and other ways for teams to bring in high-quality players without slapping a designated player tag on them. It has made teams deeper and allowed those like Atlanta United - who may want to spend money more like Tigres does - to at least make a few splashes each year.
Last week's results led some observers to conclude MLS isn't improving as much as the league's powerful marketing machine would like you to believe. Maybe it's not, but it's definitely getting better. What is often forgotten is that MLS' growth and improvement don't happen in a vacuum. Tigres and Monterrey are two of the most progressive clubs in Mexico and recognize the threat MLS poses in their own backyard. Tigres moved to sign Mexico center back Carlos Salcedo while Monterrey brought in Mexico fullback Miguel Layun and Argentina midfielder Maxi Meza. 
In some ways, they're luxury players. Tigres already had three or four quality center backs on the roster. Rayados didn't need a fullback or a winger. Yet, these are the signings that give them the depth to compete on both fronts. Those luxury signings are the kinds of deals MLS teams working around a salary cap really can't make. Even with TAM, which functionally can nearly double the salary cap, the players signed using those mechanisms have to produce week-in, week-out as starters. In Mexico, they can be teams' bench options for the bulk of the season.
That said, it still can be done. An MLS team can perform on the field and win CCL. Anything can happen in a tournament setting, and it's too early to count out every MLS team in the tournament. Toronto FC dealt with a rash of injuries during its run to the final last season and fell just short of lifting the trophy. The time is coming for MLS to break Liga MX's hegemony. When it happens, it won't mean it's the better league. But the lack of a trophy doesn't mean MLS is garbage, either, just like Sporting Kansas City smashing Toluca in the round of 16 doesn't mean MLS is far superior. 
There is still a clear gap between the top teams in the two leagues. MLS teams may be able to match some of the star power in the top, but until players 15-20 on the roster slots start competing with their Liga MX counterparts, the American league will continue to struggle on the international level.