Transfers
De Gea refuses to rule out Real Madrid move as Man Utd goalkeeper focuses on Spain's World Cup bid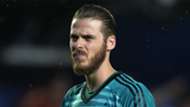 David De Gea is not thinking about leaving Manchester United for Real Madrid this summer, insisting his focus sits solely with the Spanish national team ahead of the Russia World Cup.
The 27-year-old has long been linked with a move to the Spanish capital and was close to completing a transfer to Old Trafford in 2015. 
Time ran out for the move transpire and De Gea signed a four-year deal with United soon after, ending Real's short-term interest.
De Gea was born in the Spanish capital and progressed through the youth system at Atletico before playing two full seasons in the first team.
And reports of a return to his city of birth have resurfaced as Real look for a long-term replacement for Keylor Navas, with the Costa Rica international regularly linked with a move away from the club.
De Gea, though, says he is focused only on his national team commitments with Spain as Julen Lopetegui looks to guide La Roja to a second World Cup trophy.
"My future? The important thing is the World Cup and not to think of anything else that can divert you or upset you," De Gea told reporters at Spain's Media Day ahead the World Cup. "You have to be focused on having a good World Cup - we are all good. Hopefully we can go far and win."
Asked whether or not De Gea had told his representatives to keep transfer matters away from him during the build up to the World Cup, he said: "Football is football and a thousand things can happen. But I'm always calm. Come what may, I'll be the same. It is important to be focused and be 100%."
De Gea travelled to the 2014 World Cup in Brazil but failed to make an appearance as Spain were eliminated in the group stage of the competition. 
Two years later, at the European Championships in France, De Gea was established as first-choice goalkeeper in the Spanish team and played all four games before being knocked out in the round of 16 against Italy. 
During the build up to the tournament, however, De Gea found himself involved in an allegation which not only changed him as a person but also soured his relationship with the national media.
"I was more or less hidden ahead the media because there was a time that I have not been treated as I should," De Gea continued. "Many people have been very unfair to me. Many who have criticised me, but then later knew that they were wrong, and have not given the face and rectified.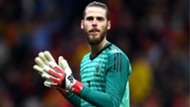 "There are many people who do not deserve to do interviews for them. Nothing else."
Asked whether or not the allegations marred the experience of the European Championship, De Gea said: "I'm a very calm kid, so it didn't affect me a lot. But obviously, I have family and people that are close to you who are more affected than me.
"It's the past and in the end it turned out that everything was a lie. And there is no more. I knew I had not done anything, that's why I was calm.
"The press conference I gave already said that it was all a lie, but everyone followed talking about if I should not be in the national team, what if ... In the end, things are shown, it turned out that everything was a lie. I was already calm, but then you remain calmer still."
Spain completed their 2018 World Cup warm-up schedule with a 1-0 victory over Tunisia on Saturday, following on from a 1-1 draw with Switzerland at El Madrigal a week prior.
And while De Gea himself made an error which cost his side a victory against the Swiss, he remains hopeful that Spain will make a much stronger case for themselves in Russia this summer.
"It's a World Cup, you always go with the same desire," De Gea said. "It's the same feeling of doing things well and helping the team, of becoming strong.
"We are very excited, there is a good team, a good group. We are going with hope.
"Will I be first-choice? I'm always calm, really. But when you have the confidence of the coach and colleagues, you always go to the field with more confidence and try to help the team as much as possible."
Spain open their World Cup campaign against neighbours Portugal in a repeat of the meeting at the 2010 World Cup in which a David Villa goal was enough to send his side through to the quarter-finals.