Kevin De Bruyne
De Bruyne and Hazard the Premier League's best - Gudmundsson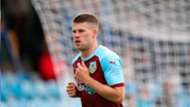 Kevin De Bruyne could return to start for Manchester City against Burnley on Saturday and Johann Berg Gudmundsson believes that his rival is in the top two players in the league, along with Eden Hazard.
Man City are top of the Premier League despite being without De Bruyne since August due to a knee injury, but the Belgian has trained with his club throughout the international break.
De Bruyne topped the assists chart with 16 last season, but in his absence, Gudmundsson has emerged as the joint-top assist provider with four for Burnley in the league. The in-form Iceland midfielder scored against City last season at Turf Moor and hopes his side can once again shock the champions of England.
"It was a big moment for me [to score that goal] because City at that moment, and probably still are, the best team in England," Gudmundsson told Goal. "It was a nice moment and hopefully we can do similar things in the next game. We know it will be tough because the quality in their side is unbelievable.
"Kevin De Bruyne and Eden Hazard are up there as the top players who I enjoy to watch in the Premier League. At left-back, I thought Alonso was quite tough because he goes up and down all time, he is difficult to track. I haven't yet played against [Benjamin] Mendy but he looks like a really good player."
Meanwhile, Gudmundsson is beginning to get highlighted by Sean Dyche and a host of pundits for his outstanding creative performances at the Lancashire club.
The 27-year-old thinks that Dyche has gotten more out of him than any other manager so far, which is some praise considering that he has played under Louis van Gaal, Ronald Koeman and Dick Advocaat.
"I've been playing really well and I have obviously set up a few goals," said the man with five assists and a goal to his name in all competitions. "My game at the moment is in a good place and it is nice when people pick it up and talk about. It is still early days and only a few games in. I want to keep this up for the whole season to get more goals and assists.
"Up until now, I am happy with how things are going but I want to keep it up throughout the season. It is just experience and at the moment I am enjoying football. My body is fine, I have no injuries and nothing to worry about. 
"It is the team that I am in at the moment. I work well with them, I know what they expect from me and everything at the moment is in a good place, both on and off the field. I think Sean Dyche is definitely the manager who has given me the most. He gave me confidence, he made me believe that I am an established Premier League player.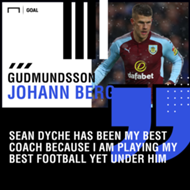 "His training methods are good and he will be honest with you. He tells you exactly what he wants from you so I think he is definitely the manager who has got the most out of me and I hope he can get even more out of me this season.
"It has shown with Burnley over the last few seasons now in how well he has done with one of the smallest budgets in the Premier League. The Dutch coaches helped me a lot as well, but I have to say Sean Dyche has been my best coach because I am playing my best football yet under him at the moment.
"I am extremely happy at Burnley at the moment. I signed a new contract and I am looking forward to carrying on doing well.
"I always wanted to play in England. I went to Charlton first in the Championship and worked my way up. I always wanted to play in the Premier League.
"In Iceland, it is the biggest league and the one you follow. That was always my aim and I am extremely proud that I am able to say I am a Premier League player."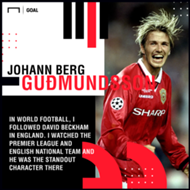 Gudmundsson now lives in Manchester himself, with the city being in close proximity to Burnley. The winger's assists from the right have drawn comparisons to those of David Beckham and he said the former Manchester United star was the player that he grew up admiring the most, with the Old Trafford outfit dominating the Premier League in his youth.
"In world football, I followed David Beckham in England. I watched the Premier League and English national team and he was the standout character there," he continued. "I had a few idols. Obviously, for people here in Iceland, Eidur Gudjohnsen was definitely one of them.
"He was a fantastic player and I was lucky enough to play with him as well. He was obviously in our Euro 2016 squad as well. He was one of the players in Iceland who I definitely looked up."
Gudmundsson's career path was an unusual one. His parents got work in London and he moved with them and joined Chelsea's academy before moving to Fulham's facility nearby.
He suffered his biggest career setback at Fulham with an injury to his cruciate ligament coming ahead of the west London club's decision on who to offer scholarships to. Gudmundsson made the move back to Iceland with Breidablik, before joining AZ and Charlton on his journey to the Premier League.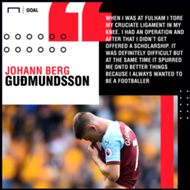 He now believes that this moment gave him the work ethic to ensure he made his dream become a reality.
"My parents lived in London for work. That's why I went to Chelsea and Fulham," he concluded. "When I was at Fulham I tore my anterior cruciate ligament in my knee. I had an operation and after that I didn't get offered a scholarship.
"My family decided to move back to Iceland. I started playing football with my friends again. I played one season in the top league in Iceland and then AZ came in and bought me from Iceland. It was a good experience though, to be in England.
"It was definitely difficult but at the same time it spurred me onto better things because I always wanted to be a professional footballer. Setbacks are not ideal, but they can give you some extra motivation to get you to your goal and that definitely happened for me.
"In the end it all worked out fine for me. If I hadn't done my ligament, what would have happened? I don't know. That's just football and injuries are something you have to get used to."