MLS
D.C. United's Mullins breaks MLS record with four-goal outburst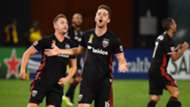 WASHINGTON — Patrick Mullins undoubtedly will look back on 2017 with a sour taste in his mouth. The 25-year-old entered the campaign with a fresh contract at D.C. United and the starting job for the first time in his MLS career. What followed was a season defined by injury and inconsistency.
But the life of a striker is a fickle proposition. When Mullins netted the 57th-minute opener at RFK Stadium on Saturday, it marked his first goal since October — snapping a 16-game drought.
Then came his second. Followed by the third. And a fourth.
By the time United (9-17-4) found itself celebrating a 4-0 win over the San Jose Earthquakes (10-13-6), Mullins had recorded the fastest four-goal performance in MLS history, completing the feat in 31 minutes — besting Diego Serna's 38-minute mark from 2000.
"The first one goes in and as a forward in this league everyone knows you want to get that first one quickly," Mullins said. "It took me a long time this year for many reasons."
Mullins' outburst marked the first four-goal performance in MLS since Jeff Cunningham in 2009, and the first from a United player since Abdul Thompson Conteh in 2001.
After scoring eight goals in 15 MLS matches following a midseason trade from New York City FC last year, Mullins has missed 13 matches this season because of hamstring and knee injuries. Even when Mullins was healthy, the goal-scoring instincts seen during his streaking start to life in D.C. had gone missing.
But there was a sense Mullins was starting to turn a corner in recent weeks. With United's attack jolted by midseason signings Paul Arriola, Zoltan Stieber and Russell Canouse, Mullins found himself executing combination plays and unearthing chances in the final third.
"I think this was coming from me — maybe not this type of performance, but to get the first one," Mullins said. "I've seen improvements in my performance each game since I came back from injury. It was a long road for me, maybe longer than I was expecting to be back to full sharpness."
For United, the club's second-to-last match at RFK Stadium gave the 25,229 in attendance a night of respite amid a grueling campaign. With the postseason out of reach, Mullins and Co. find themselves playing for their 2017 status ahead of what surely will be an offseason of change in D.C.
"Great — four goals and he did a heck of a job," United coach Ben Olsen said. "It's always difficult when you win 4-0 and you're excited, but in some ways it p***es me off that we're in the situation we are because we've got a good group and there's real players out there that can make a difference, and we just didn't do it enough this year."
It was a sentiment echoed by Mullins, who was quick to put his record-breaking night in perspective. For a team that still sits last in the Eastern Conference with the league's lowest-scoring attack, there is still plenty to prove over the final four matches of a disappointing MLS campaign.
"I don't think anybody in there is fooling themselves," Mullins said. "We're happy for the night, for the fans, and we want to finish off here at RFK on a high note, but we're not happy with how it's gone this year and we want to show how hungry we are."