UEFA Champions League
CSKA Moscow fans injured in escalator collapse ahead of Champions League clash with Roma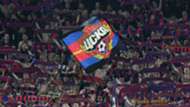 The collapse of an escalator at a metro station in Rome has left a number of CSKA Moscow supporters nursing injuries.
Fans of the Russian club were making their way to a Champions League fixture in the Italian capital when they were caught up in the incident.
Panic among the travelling party was sparked at Piazza della Repubblica shortly before a continental clash.
One of the escalators providing access to platforms at the station gave way, forcing it to accelerate and send a number of those riding it crashing to the ground.
The weight of supporters, who were in high spirits as they sang songs and danced their way towards their destination, is believed to have led to the collapse.
В Риме перед матчем #РомаЦСКА на одной из центральных станций метро вышел из строя эскалатор с болельщиками, есть серьёзно пострадавшие (с) pic.twitter.com/4hslg9ySBt

— Фанаты ЦСКА★RBWorld (@RBWorldorg) October 23, 2018
Firefighters and medical professionals arrived quickly on the scene and provided assistance to those caught up in the chaos for over an hour.
They were able to free those unable to work themselves clear of the carnage, but according to Italian news service ANSA, 24 people were left injured.
Six of those 24 suffered serious injuries, with one person suffering a badly fractured leg and left facing the threat of amputation. An investigation into the incident has been opened.
Elsewhere in the Italian capital, CSKA fans became caught up in clashes with Roma rivals.
Local police were forced to intervene, amid reports of a stabbing, leading to two arrests.
On the field, CSKA head into their latest European encounter sat top of Group G.
They have collected four points from their opening two outings, leaving them one clear of Roma and Real Madrid.
CSKA have failed to make it past the group stage of any Champions League campaign since 2011-12, though, with the club falling at the first hurdle in each of the last five seasons.