Cristiano Ronaldo
Crouch jokingly offers overhead-kick assistance to Ronaldo
Peter Crouch has jokingly offered assistance to Real Madrid icon Cristiano Ronaldo if he wants to improve his overhead-kick goal technique.
The Portuguese netted a stunning bicycle kick in his latest outing against Juventus , as he helped to secure a commanding 3-0 lead in the Champions League quarter-final clash.
He is, however, not the first to have found the target in such a manner on the grandest of stages in European football.
Back in 2006-07, then Liverpool striker Crouch did likewise against Galatasaray, and the former England international has suggested that Ronaldo still has some way to go to match his effort.
The Stoke City frontman joked to the Daily Mail after seeing the Portuguese match his achievement: "Admittedly, there is an area of his game that still must be improved.
"Only a select few of us have successfully executed a bicycle kick in the Champions League and while his goal against Juventus was good, I am happy to impart my wisdom if he wants his next attempt to be better!"
Crouch has locked horns with Ronaldo on a number of occasions down the years, both at international level and on a domestic platform in the Premier League.
He is prepared to admit that he never expected the former Manchester United man to scale the heights he has, especially as his first meeting with the five-time Ballon d'Or winner saw his side more concerned about Ricardo Quaresma.
"Watching Real Madrid against Juventus, I started thinking about an England Under-21 game in which I was involved, away to Portugal, in March 2003," added Crouch.
"That was the night Cristiano Ronaldo opened my eyes to a different way of playing football.
"We had a decent team then — Gareth Barry, Joe Cole, Michael Carrick and Jermain Defoe all started — but we knew we were coming up against a special player.
"The talk before the game, though, was not about Ronaldo. We were more worried about Ricardo Quaresma. Nobody had heard of Ronaldo.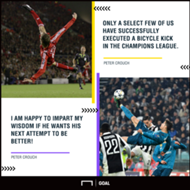 "Quaresma did not disappoint. He was magnificent and kept hitting these 50-yard balls across the field, but Ronaldo was ridiculous. He was so good. He would control those sweeping passes from Quaresma from the opposite flank — with his back! — before setting off towards goal at unbelievable speed.
"You could only feel for Jlloyd Samuel and Paul Konchesky, who were our full-backs. They were run ragged and by the end, we lost 4-2 and Ronaldo scored.
"So when he arrived in the Premier League later that year, I knew from that night what to expect from Ronaldo, with all the tricks and flicks.
"But I will be honest, I never anticipated that he would become arguably the greatest centre forward we have ever seen and one of the two best players to ever live.
"He will not entertain the idea of losing and I am convinced that what Lionel Messi does for Barcelona drives on Ronaldo. How many times have you seen Messi score a hat-trick one night and then Ronaldo do the same 24 hours later? It can't be a coincidence.

"I never got to see Diego Maradona play, other than on TV. I have seen only clips of Johan Cruyff and Pele and read about the feats of Alfredo Di Stefano and Ferenc Puskas, but I honestly believe Ronaldo and Messi are the two greatest players who have ever breathed.
"A few weeks ago, I referred to the fact that I will enjoy telling my grandchildren one day that I shared a pitch with Messi — it was during a Champions League game for Liverpool in 2007 — but I will say the same about Ronaldo."