Arsenal
Could Arsenal & Liverpool face a Champions League play-off?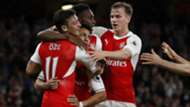 The Champions League race is going to the final day.
James could be Man Utd's Hazard
The destination of the Premier League title is set - Chelsea will get their hands on the trophy after this Sunday's game against Sunderland - and the relegation places have been filled by the Black Cats, Middlesbrough and Hull City.
Yet there remains intrigue to be had. Arsenal, Liverpool and Manchester City are all vying for two spaces in the league table. City are currently third, while Liverpool lie fourth and Arsenal fifth. While three wins from the three teams would leave the table as it is, there are many permutations that could potentially see a play-off for a place in the Champions League...
---
LEAGUE TABLE AS IT STANDS
---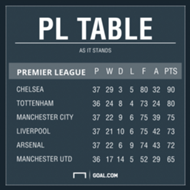 With both Chelsea and Spurs certain to finish in the top two positions, City are best-placed to secure qualification. A victory over Watford at Vicarage Road will confirm their spot in third, while a draw would also put them out of reach of Arsenal.
Liverpool, meanwhile, know that a victory is necessary against Middlesbrough, while a draw could see them fall below the Gunners if Arsenal defeat Everton at the Emirates Stadium.
Arsenal, lastly, need a favour. They must hope that either Liverpool or City drop points in what appear to be relatively straightforward fixtures, and then do their job of beating Everton.
---
A THIRD-PLACE PLAY-OFF?
---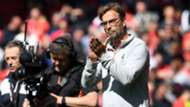 Now it gets really interesting.
Liverpool have two potential play-off routes, but both appear relatively unlikely. City only lie two points above Liverpool, so a draw for Pep Guardiola's side against Watford, and a victory for the Reds, with the correct goal difference swing, would see Jurgen Klopp's men tie City for third.
Mahrez set to lead Leicester departures
Thus, a one-off game would have to be played to decide who enters into the Champions League group stages and who faces a qualifying match.
City currently have a positive 36 goal difference, as opposed to Liverpool's 33, though a play-off would hinge on goals scored and goals conceded being identical. Thus, a 3-0 win for Liverpool over Boro, and a 3-3 draw between City and Watford would mean both clubs have scored 78 goals, conceded 42 and accrued 76 points.
---
A FOURTH-PLACE PLAY-OFF?
---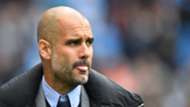 This appears more likely, though it still stretches the bounds of probability.
A 1-1 draw between Arsenal and Everton, who were themselves once chasing qualification for the Champions League, and a 2-0 defeat for Liverpool against Middlesbrough will mean both clubs finish on 73 points, with an identical goal difference of positive 31 - 75 scored and 44 conceded.
A 2-2 draw for Arsene Wenger's men, coupled with a 3-1 Middlesbrough win over Liverpool would similarly lead to a play-off.
Boro's form, though, has been woeful on the road this season and they have not won away since August.
---
ARSENAL V CITY?
---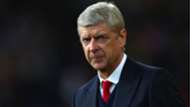 This one is exceptionally hard to fathom.
Arsenal could still face City in a play-off, but they would need a mighty performance from Watford to see it happen.
A 4-0 defeat for Pep Guardiola's men, coupled with Arsenal defeating Everton 1-0, would see both teams end on 75 points with 75 goals scored and 43 conceded.
Liverpool's result against Middlesbrough would then confirm whether or not the two clubs were playing off for third or fourth place.
Watford, though, have only recently announced that Walter Mazzarri will be leaving the club, the manager having overseen a run of five straight defeats. We did say it was hard to fathom.