CONMEBOL Libertadores
CONMEBOL propose rearranged Copa Libertadores final be played outside Argentina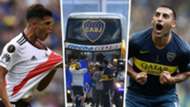 Efforts to rearrange the postponed Copa Libertadores final second leg between River Plate and Boca Juniors have begun, with CONMEBOL proposing the match is played outside of Argentina.
With the two teams locked at 2-2 following the first leg, Saturday's match was delayed and then postponed after River fans attacked the Boca Juniors bus, injuring a number of players.
Though efforts were made to play the game the following day, it was decided that the match would be delayed further, with authorities now hopeful the game can be played on the weekend of December 8-9.
It is reported, however, that Boca are set to reject the proposals at a meeting between the two clubs in Paraguay, claiming that they should be awarded the match, and therefore the trophy, given their innocence in the events of the weekend.
"It is a shame that we are in a situation like this because of some misfits," CONMEBOL chairman Alejandro Dominguez told Fox Sports. "The image that has been sent to the world is the wrong one, this is not the football that we want.
"The conditions are not equal, given there is a team that was attacked. When the teams of each club enter the field, we want there to be equal conditions. We want to see a show.
"We believe that we must send a signal that there are no excuses. Let the team who scores more goals on the pitch win. The board of CONMEBOL has taken the decision that there is no equality in the current conditions.
"We have to provide the conditions so that both clubs have the ideal conditions for the final to be played. We will meet with the presidents of Boca and River in Asuncion to find a date and play this game."
Boca have appealed to CONMEBOL's disciplinary court, and despite the confederation's proposal, the decision of that tribunal is likely to determine whether the match goes ahead or not.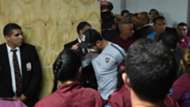 Should it be rescheduled, Paraguay has been reported as a likely venue while venues in the Middle East such as Doha and the UAE have been mooted given the Club World Cup begins on December 12 in Abu Dhabi.
The winner of the Copa Libertadores will play in the competition alongside Real Madrid and other continental tournament winners, with the final set for December 22.
Genoa has also offered to host the game, with the Italian city citing their large Argentine population as reason for it to be played there.
It has not yet been determined whether any supporters will be allowed to attend any rearranged fixture given their part in the incidents that lead to the postponement and the potential security risks.