CAF Champions League
COMMENT: Gavin Hunt can learn a thing or two from Pitso Mosimane in Caf Champions League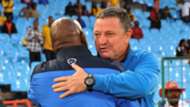 In life there are many things which go together in extreme harmony like Lionel Messi and Barcelona, but Gavin Hunt and the Caf Champions League certainly does not seem to be one of them.
On Saturday evening, another Caf Champions League encounter went by which saw a side under the mentorship of arguably one of South African football's most successful coaches fall by the wayside for the second consecutive year.
Although, Bidvest Wits fought valiantly against Angola's 1° de Agosto, their eventual defeat on the lottery of penalties, in more ways than one, summed up Hunt's approach to the Caf Champions League.
While the 53-year-old mentor was desperate to finally get the monkey off his back and prove to his critics that he does indeed take continental football seriously, his approach to African football continues to leave much to be desired.
Hunt's squad selection in this year's competition showed that Wits were looking to compete, but the reality is that African football cannot be taken for granted. It is an entirely different beast when compared to the local Premier Soccer League (PSL), but more often than not, South African football is guilty of possessing a sense of entitlement on the continent which works against them.
Just because South African clubs enjoy the luxuries of good facilities and financial backings, this does not mean that success on the continent is a given.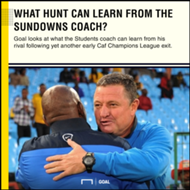 But while the above-mentioned factors do contribute to success, clubs are still required to take African football seriously and not just by saying it aloud in press conferences but actually doing it.
Following Wits' defeat, many criticised Hunt's lack of desire as the root cause for their exit, but on closer inspection, success on the continent is more than just a mindset as it involves adequate planning as well.
The former SuperSport United mentor would do well to consult with his counterpart and rival Pitso Mosimane, a man who has mastered the art of competing on the continent in recent years.
For the third consecutive season, the Brazilians under the mentorship of their astute tactician booked their place in the group stages of the competition, and if Hunt one day does decide to speak to Mosimane, he might learn a thing or two.
Mosimane has put in a lot of work over the years in getting his side ready for continental football, even building a star-studded side with the intention of African football and not only domestic football. This is the mindset that Hunt will need to adopt if he is to succeed. South Africa is not a continent, and if a club hopes to be among the best in Africa, winning the PSL is not enough.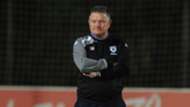 Also, questions need to be asked about the amount of homework South African sides have done on their opponents. Sundowns have been leading the way in this regard as they usually send their scouts earlier to assess the conditions and facilities as well as compile footage of what to look forward to when travelling abroad.
Most importantly though, Mosimane has also never been shy to ask fellow South African coaches about what to expect from certain teams. Mosimane consulted with the likes of Roger de Sa and Eric Tinkler regarding their experiences and knowledge of the opposition in the past, and he has taken that advice on board which has shaped their success on the continent.
Nonetheless, what is apparent in succeeding on the continent is that you exhaust every resource at your disposal. Whether this is currently being done or not is up for dispute, but what's certain is that winning in Africa is not a game of chance.  
Perhaps Hunt will listen to Mosimane as his side has one last reprieve on the continent as they now drop down to the Caf Confederation Cup where they will look to emulate SuperSport's successes.