FA Cup
Coach Burn wants see a confident and fearless PKNP against highly-fancied Kedah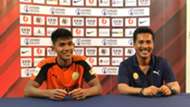 ---
 BY       OOI KIN FAI      Follow on Twitter
---
PKNP FC are in unchartered territories when they line up on the opposite side of Kedah in Saturday's FA Cup quarterfinal first leg at Darul Aman Stadium. However, it is not unprecedented for a Premier League club to reach that stage of the competition, as they look to emulate PKNS FC's triumph in reaching the final of last year's edition.
Apart from being drawn to face Johor Darul Ta'zim (JDT), PKNP was given arguably the second toughest draw available. Tan Cheng Hoe's Kedah are going great guns in the 2017 season and are the only Super League side that has yet to taste defeat this season. The gigantic task that awaits PKNP is something that Abu Bakar Fadzim is well aware of.
"That is true [that this match against Kedah is the toughest match for them thus far in 2017]. Because we lost three players. The senior defenders, Fazli [Zulkifli] suspended for two matches and Ritus [Krjauklis] suspended for one match while Vincent [Weigl] was told to rest for three weeks and has yet to rejoin training," told Abu Bakar in an interview with Goal.
The loss of key players throughout the backbone of PKNP will not help Abu Bakar's cause to create an upset against the more fancied opponent. However, he chose to remain defiant despite the tough hand that he has been dealt with and intends to put his faith in the local players to come in and perform.
"So far in my contact with [Syazwan] Zaipol [who was away with Malaysia U22 at Dubai], he has no injuries. 90% we'll depend on the local and the chances are slim. But we'll try to do the best and gain experience during the match," said Abu Bakar.
Kedah's strengths are known quantities but knowing about it and being able to stop it are two mutually exclusive things. Tan wants his players to build from deep with incisive short passing being the hallmark of their game. 
Abu Bakar has a plan in mind and that means cutting off the options for the likes of Liridon Krasniqi, Sandro da Silva and Ken Ilso. Crowding out the midfield to stop the flow of movements from the home team will be vital to PKNP have a fighting chance in the second leg.
"From what we see, Kedah has good movement and they are good at creating space. We cannot play to their momentum. We have to cut off their passes in the middle and force them wide. The players have to know that we cannot allow them the gap to exploit in the middle." 
"Kedah are a team in form and they do not only rely on one or two players. We have to be really aware and be discipline in our game," explained Abu Bakar.
Abu Bakar is also understandably worried about the composure of his players as most of them have never experience playing in this stage or an atmosphere as electric as the capacity Darul Aman Stadium will impose on them. This is where the experience of Abu Bakar having featured in such matches during his playing days for Perak will come in handy to guide his team.
"We have never played in front of such a big crowd. We are also worried about the referee, especially given what we've seen during Kedah's game against Perak. This will be a new experience for the players and hopefully the players will learn from it as they've never been in this situation before," added Abu Bakar.
The 45-year-old head coach wants his players to adopt a positive approach to the match. To use the match to drive their ambition and desire to be better both as individual players and as a team. Kedah have definitely become the benchmark to follow and Abu Bakar intends to push his players to bridge the gap between PKNP and them.
"It's nothing to lose for us and it'll be good for us to try and catch up to the standard of Kedah. We have to overcome the respect and the fear. We have to be more confident in our decision-making. Then it can be balance and maybe we can surprise them," said Abu Bakar.
PKNP created an upset in the second round of the FA Cup when they ousted Super League side, Kelantan from the competition. They will be raring to add Kedah to their list of scalps for the season.