Chelsea
Christensen a £75m asset for Chelsea? Lampard says defender is as good as Van Dijk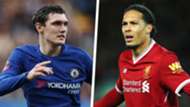 Andreas Christensen is as good as Liverpool's £75 million centre-half Virgil van Dijk and has saved Chelsea "an awful lot of money" in the transfer market, says Frank Lampard.
The 21-year-old entered the 2017-18 campaign with just three senior appearances for the Blues under his belt – having spent the last two seasons on loan in Germany at Borussia Monchengladbach.
His obvious potential had been noted in the Bundesliga, with Antonio Conte prepared to give him a chance at Stamford Bridge as David Luiz saw a dip in form drop him out of favour.
Christensen has gone on to take in 30 outings for Chelsea in a breakthrough year and is now considered to be one of the finest defenders in European football.
Blues legend Lampard told the Evening Standard of the talented Denmark international: "Even if Van Dijk had come in, the player Christensen is, he'd have handled anything.
"You put a team around those players even at his age. He wouldn't have had a problem whoever they signed.
"I trained with him a fair bit when I was still there. We were all very aware of his abilities. 
"He came over to join in senior sessions when he was 16 and was very impressive.
"Some young players were not ready for the increase in speed of the game, to make decisions and choices on the ball when they were invited to join in.
"But even at that young age you could see he had composure and an awareness about him that made him fit straight in."
Lampard added on a man who penned a new contract in January which is set to keep him in west London until at least the summer of 2022: "At his age and with the talent he's got, he is worth an awful lot of money.
"Chelsea have signed him to a long-term contract so you can put whatever figure you want on it. But they are never going to sell him. He is not going anywhere.
"It's very important that he's back fit again for these big games because he is a key player and this is crunch time of the season."