Premier League
Freedom march! Chilean fans to march in favour of Alexis leaving Arsenal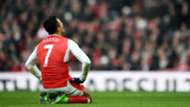 A group of Chilean fans are set to march in protest at the prospect of Alexis Sanchez remaining at Arsenal.
'I wouldn't sign Messi for free!'
Alexis is arguably the Gunners' top star, ahead, even, of Germany international Mesut Ozil, but a group of passionate fans are growing tired of the club's form, and are set to implore him to leave the Emirates.
The protest group started on Facebook, and grew popular after Arsenal were thumped 5-1 by Bayern Munich in the Champions League, a game in which Alexis scored the Gunners' only goal
"We, as Chileans are tired of watching one of our biggest stars play on his own to make his team get through," read a post on the page.
"We don't want him to play at Real Madrid, nor go back to Barcelona, we don't give a f*ck where he plays, we just want him to fight along with other 10 players to get the results. He doesn't deserve to be alone."
Following the popularity of the group the march is set to take place on Wednesday, despite initially starting as a joke.
So serious is the march that the organiser has advised supporters not to bring an Arsenal shirt, in case it is burned.
"It was a joke, since the first day, and it's clear for all," the organiser wrote. "But we never thought that media from 17 countries would cover this thing (...) so it's simple: we'll stop this joke today... shouting for our wonder"
"See you 7pm at Plaza Baquedano. The first to arrive climbs up the monument with an Alexis shirt. If it's an Arsenal one people could possibly burn it so I suggest it should be a Chile National Team one"