Javier Hernández
Chicharito realigns focus after missing out on January move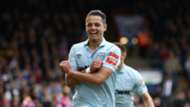 Javier "Chicharito" Hernandez is prepared to commit himself fully to West Ham after missing out on a January transfer.
Having slipped down the pecking order under David Moyes, the Mexico international striker attracted plenty of interest during the winter window.
He has admitted as much, with advances from Premier League rivals shunned by the Hammers.
With the deadline having passed, Hernandez now knows that he will remain in east London until at least the summer, so he is prepared to knuckle down and give his all to the collective cause.
The 29-year-old, who has netted two goals in his last four appearances, told West Ham's official website: "I always try to be a professional and now my head is here 100%.
"I will dedicate myself 100% to this team as I had done in all the clubs I have been in, to save us from relegation, which is the goal that we all have, from the coach, the players, all the staff who work at the club, and then also the fans — we will do everything possible to do it."
Moyes may need Hernandez to be at his predatory best over the coming weeks, with West Ham perched just three points above the relegation zone.
They have gone three games without a win in the Premier League, and four in all competitions, and there is an acceptance within the camp that more needs to be done to dig themselves out of trouble.
Hernandez added: "We have got to be at our best to stave off relegation.
"Two weeks ago we were in 10th place, in the middle of the table practically.
"Then, you can have two bad results and you are down, or you can have two very good results and you are up. This is how it will be.
"We obviously want to be more consistent, which is obviously the key to saving us as soon as possible and not suffering going into the last days [of the season]."