Premier League
Chelsea fans start petition to name stand after Terry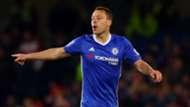 Chelsea supporters have started a petition to name a stand after outgoing captain John Terry at the club's proposed new stadium.
Mourinho targets Willian reunion
Encouraging fans to use the hashtag #JohnTerryStand on social media, the Change.org petition needed less than a day to reach its goal of 2,500 signatures.
"Captain. Leader. Legend. There is no one on the planet who's more Chelsea, than John Terry," the petition says.
"He's lifted every trophy in the game, having been at Chelsea since the start of his career.
"The man is an icon for not just Chelsea fans, but lovers of football all around the world. 
"We, Chelsea fans, want the club to honour him by naming a stand at the new Stamford Bridge stadium after the greatest Chelsea Captain of all time."
Terry, 36, will leave Chelsea at the end of the current Premier League campaign after 19 seasons with the club.
The stand would be located at a 60,000-seat stadium currently under consideration for construction at the existing Stamford Bridge site.