UEFA Champions League
Champions League Group H fixtures: Real Madrid draw Tottenham, Borussia Dortmund & APOEL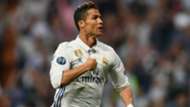 Real Madrid will face Borussia Dortmund, Tottenham and APOEL in a challenging Champions League Group F.
The reigning champions will be considered favourites to progress to the knockout stage but will be presented with some difficult fixtures from the start of their run in the 2017-18 competition.
Real Madrid 4/1 to defend Champions League
Dortmund were quarter-finalists last season and while Spurs exited in the group stage, they went on to enjoy another impressive Premier League campaign.
Cypriot champions APOEL, meanwhile, will be regarded as major underdogs, having been eliminated in the play-off round by Copenhagen in 2016-17.
Matches will kick off on September 13, with the group concluding on December 6.
---
GROUP H TABLE
---
| Pos | Team | GP | W | D | L | GD | Pts |
| --- | --- | --- | --- | --- | --- | --- | --- |
| 1 | Real Madrid | 0 | 0 | 0 | 0 | 0 | 0 |
| 2 | Borussia Dortmund | 0 | 0 | 0 | 0 | 0 | 0 |
| 3 | Tottenham | 0 | 0 | 0 | 0 | 0 | 0 |
| 4 | APOEL | 0 | 0 | 0 | 0 | 0 | 0 |
---
GROUP H FIXTURES
---
| Date | Match | Time (BST) |
| --- | --- | --- |
| Sep 13 | Real Madrid vs APOEL | 19:45 |
| Sep 13 | Tottenham vs Borussia Dortmund | 19:45 |
| Sep 26 | Borussia Dortmund vs Real Madrid | 19:45 |
| Sep 26 | APOEL vs Tottenham | 19:45 |
| Oct 17 | APOEL vs Borussia Dortmund | 19:45 |
| Oct 17 | Real Madrid vs Tottenham | 19:45 |
| Nov 1 | Borussia Dortmund vs APOEL | 19:45 |
| Nov 1 | Tottenham vs Real Madrid | 19:45 |
| Nov 21 | APOEL vs Real Madrid | 19:45 |
| Nov 21 | Borussia Dortmund vs Tottenham | 19:45 |
| Dec 6 | Real Madrid vs Borussia Dortmund | 19:45 |
| Dec 6 | Tottenham vs APOEL | 19:45 |