Super League
Celin overjoyed at keeping Kelantan in the top flight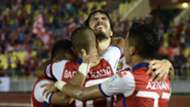 Kelantan became the last survivors of the 2017 Super League season after a 3-1 win over Melaka United enabled them to finish the campaign in 10th spot, and ultimately avoided relegation to the Premier League.
Coming into the final round of matches in 11th spot, Kelantan knew that they have to achieve a better result than one from Sarawak and T-Team or face the risk of at least one season in the lower division.
With Sarawak and T-Team playing out to a 1-1 draw, Kelantan were able to achieved safety, being one point ahead of Sarawak at the final reckoning. Though that didn't look secured when the teams went into the dressing room at half time.
Kelantan were 1-0 down but an improved second half performance kickstart their comeback. Striker Alessandro Celin was the toast of the team as he scored twice to help the Red Warriors achieve a vital win.
The Brazilian who has endured a testing season, being told that he was to be replaced midway through the season but was only kept on because Kelantan were barred from signing a new import. 
"I don't know how to explain my emotion now because it was not an easy season for me. But I kept believing and kept working hard to help Kelantan stay in the Super League. Today God bless me with these two goals and these is for the fans because Kelantan belong in the Super League."
"It's very important (to stay up) because they (fans) are so passionate about this club and I hope they are now very happy and they enjoy the holidays," said Celin in an interview with the host broadcasters after the match.
Kelantan who recently gone through a massive change in their organisation after Bibi Ramjani Ilias was voted in as the new Kelantan FA president, had been given a reprieve with this survival. They were earlier docked six points for failing to comply with the league rules, that was ultimately reduced to just three docked points. 
Given how tight the final standings was, that reduction definitely worked in Kelantan's favour and now their fans can start looking forward to another season in the top flight.