Opinion
Nigeria vs. Argentina: Does Lionel Messi absence open the door for Super Eagles win?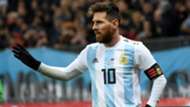 ---
COMMENT 
---
There's no doubt that there's a rivalry between Argentina and Nigeria, with the duo having locked horns on several occasions over the years - notably at the World Cup.
They first met at the global showpiece during the group phase of the 1994 edition – the Super Eagles' maiden outing - ending in a 2-1 defeat for the West Africans. They have since met six more times, with Nigeria claiming just one win and a draw.
La Albiceleste and the Super Eagles obviously don't have the same strength of squad, with the South American giants more superior overall. One player who has been a particular thorn in the flesh for the three-time African champions over the years is Lionel Messi, but he's a concern that Gernot Rohr's side won't have to worry about on Tuesday.
The diminutive forward has caused problems for the Super Eagles on every occasion they've crossed paths, despite herculean efforts on the part of the Africans to contain him.
They will surely be boosted by his absence this week, as while he may not have enjoyed the most successful international career to date, Messi has been in form in recent international fixtures, since coming out of his brief international retirement.
The 30-year old rescinded his decision, and his brilliance in the final World Cup qualifier against Ecuador, where he scored a fantastic hat trick to seal Argentina's place in Russia after a poor campaign, simply demonstrated how valuable he is to this side.
#Messi

All time top scorer with Argentina
All time most assists with Argentina
All time top scorer in South America World Cup Qualifiers pic.twitter.com/9mUDUBsZFU

— 442stat.com (@442stat) October 11, 2017
His absence will surely come as a boost to a Super Eagles side who now do not need to come up with a specific plan to stop the playmaker.
Regardless of Messi's absence, Argentina still have players that can wreck havoc on the Nigerian defence. The likes of Sergio Aguero, Angel Di Maria and Paulo Dybala will be available for selection and cannot be taken likely, as the trio have 24 goals between them so far this term.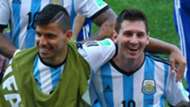 This fixture could put Nigeria in the right frame ahead of the World Cup and set the West African giants up for a strong tournament, where they will be hoping to at least match their best-ever finish at the mundial - the round of 16.
Nigeria have already overcome three of Africa's strongest teams in Algeria, Cameroon and Zambia -- all former champions -- but during Rohr's tenure, they haven't yet faced a team of the quality of Argentina, with or without Messi.
Certainly, Rohr can be relieved that Messi won't take to the field on Tuesday, but he will be aware the his Eagles will still face a severe test and will have come up for a specific strategy to contain the Albiceleste's top players. Consider it a dress rehearsal for when Nigeria - as they inevitably will - come up against one of the world's giants in the group stage.
If they can find a way to neutralise Argentina's considerable attacking options, then Nigeria, considering their recent form, could even be in line for a positive result in Krasnodar. With or without Messi, it will be tough, but this Eagles generation have rarely found themselves overwhelmed or overawed by a challenge!