Mohun Bagan
Calcutta Football League 2018: Mohun Bagan start preparation with only 13 players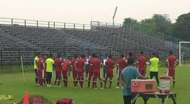 Mohun Bagan started their pre-season practice at the club ground in Maidan with only 13 players turning up. All the players in the squad have been contracted from July 1, 2018. Interestingly, all the foreign players are not expected to join the team before the second week of July.
Head coach Sankarlal Chakraborty had a light day at office as physical trainer Samiran Nag remained busy with the players. Bagan's primary target is to stop East Bengal from winning the Caclutta Football League (CFL) for the ninth consecutive time and the management wants to leave no stone unturned in its pursuit. Club secretary Anjan Mitra along with football secretary Swapan Banerjee and technical committee head Sishir Ghosh were also present during the practice session.
Each of the players were felicitated by the club secretary before the training commenced. Mehtab Hussain turned up in the maroon and white practice kit along with new signing Abhinas Ruidas who has been roped in from Mumbai City FC.
Chakraborty revealed that he has set the priorities straight in the very first training session by making it clear to the players that he is not going to settle with anything less than being champions in the upcomimg CFL. "Out target is to win the Calcutta Football League. Every player must take extra responsibility. I have made it clear to the boys on the very first day," said the coach. 
It was startling to find that the coach had personally requested his players to turn up for practice since they are not contractually bound as yet. "I have personallly requested the players to come for practice. I cannot force them as they are contracted from July. But if more players turn up, it will be helpful to build a team combination," said Chakraborty. Questions are being raised as to why the players were not awarded a contract from June itself when the club had plans to start their preparations from the second week of this month. 
On the other hand, a gag order has been placed on the players preventing them from speaking to the media in order to steer away from any controversy. Mitra said," If the players have anything to say they can come up to the club management and we will address their issue. We don't want any controversy."