Manchester United
Calamitous calls by Mourinho see Man Utd dumped out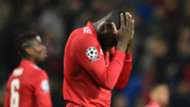 When Jose Mourinho gets it right, results like Saturday's 2-1 win over Liverpool can happen and he looks like a master. But the Manchester United manager will long be questioned over his decision to start Marouane Fellaini over Paul Pogba as they were dumped out of the Champions League by Sevilla on Tuesday at Old Trafford.
Fellaini, who had not started in almost four months due to a knee injury, was given the nod over Pogba, who despite having picked up a training-ground knock last Friday had recovered sufficiently to play some part in Monday's pre-game session.
The result was United turning in an utterly abysmal showing as Wissam Ben Yedder came off the bench to strike twice in the second half and hand the Spanish side a 2-1 aggregate victory.
By the time Ben Yedder had broken the deadlock Fellaini had already been replaced in favour of Pogba on the hour mark, but the damage had in many ways been done.
Mourinho's decision to place Fellaini alongside Nemanja Matic in midfield resulted in a stagnant United engine room which was far too easily bypassed by Vincenzo Montella's side. The Belgian's aerial threat was clearly his main selling point but in truth they were far too disjointed to make the most of it, with a big gap often appearing between their five most attack-minded players and the five charged with limiting the damage at the back.
The Portuguese had clearly made an error in playing around with his attacking midfield line too as he attempted to get the best out of Alexis Sanchez to the detriment of Marcus Rashford. After the England front man's explosive display from the left against Liverpool he found himself shunted to the right in a bid to get Sanchez into more spaces of his own liking.
The consequence for Rashford was that on the occasions he was able to get beyond defenders and into space, he had a corner flag facing him rather than the goal. And on the one occasion during the first half that he did get into a good crossing position he found six Sevilla defenders and no team-mates in the opposition box.
This was about as abject a performance as United could possibly have turned in, and there was an air of inevitability about Ben Yedder's opener when it came. A United move was broken down in midfield and the Frenchman got in between Chris Smalling and Eric Bailly to slot home Pablo Sarabia's pass. Within four minutes he had scrambled home a second at the far post with David de Gea unable to keep the ball out despite two desperate attempts.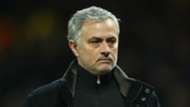 Romelu Lukaku pulled one back but there was never going to be a miracle recovery. United's first home Champions League knockout fixture in four years was also their last for at least 12 more months, and the inquiries can start now. How on earth did United get humiliated by such a limited Sevilla outfit?
Mourinho said in the build-up that this game and the FA Cup quarter-final against Brighton on Saturday were far bigger fixtures than the win over Liverpool, but that begs the question as to why he took a gamble on a half-fit, ill-equipped Fellaini and pushed Rashford out of the position from which he thrived just three days ago.
In all truth, United were never going to be good enough to win the Champions League this year. But Mourinho will now have to explain exactly why they were quite this bad on their biggest night of the season.