Juventus
'Buffon is the Messi or Ronaldo of goalkeepers' - What it's like being the Juventus ace's understudy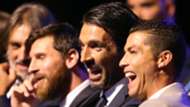 Ahead of his 40th birthday on Sunday, Gianluigi Buffon admitted that he may consider extending his career beyond the end of the current campaign. 
That is obviously great news for Juventus and fans of the arguably the greatest goalkeeper of all time, who remains at the peak of his powers a staggering 23 years after his professional debut at Parma. 
Wojciech Szczesny might be less enamoured with the idea of Buffon playing on for at least another year, though, given he was poised to take over as the Bianconeri's No.1 this summer. 
However, the majority of the Pole's predecessors have never had any issue serving as the Italian icon's understudy, considering it both a privilege and a valuable learning experience. 
Indeed, Alex Manninger spent four years as Juve's second-choice goalkeeper, between 2008 and 2012, and the former Arsenal goalkeeper doesn't regret a single second of his time in Turin.
"Gigi is an exceptional man," the 40-year-old Austrian tells Goal. 
"When I arrived at Juventus, he gave me a great welcome and that created a special relationship right from the start. We are still in contact today and we talk often. 
"My four years in Turin was an experience of an extraordinary level thanks to Gigi. 
"As a goalkeeper, it's pointless to add anything else. He was a truly world-class player, the role model for anyone that wants to become a goalkeeper. In short, he is the absolute reference point. 
"I remember that, as an opponent, I used to examine him from afar. I followed his moves and I admired him.
"Then, arriving at Juventus, I had the good fortune to observe him day after day in training and that helped me understand his greatness even more."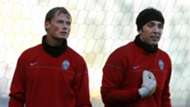 Manninger discovered that Buffon was more than just an excellent goalkeeper, he was also an inspirational influence on his Juve team-mates. 
"From him, I really learned so much in terms of the role of a captain," the ex-Austria international explains. 
"His presence in the dressing room was always that of a true leader, capable of motivating all of his team-mates, of being hard in moments in which it was needed and giving us all a great incentive to improve. 
"I'm very proud at having shared four years of my footballing career with a genuine legend."
Buffon joined Juve from Parma in 2001 for €52 million – which remains a world-record fee for a goalkeeper – but, according to Michelangelo Rampulla, the 23-year-old arrived without any airs or graces.
"I was the first man to be Buffon's understudy at Juventus," enthuses Rampulla, who is now working as goalkeeping coach under Marcello Lippi with the Chinese national team. 
"He was already affirmed as a young champion, whereas I was at the end of my career. I was 40 at the time but we immediately struck up a great rapport.
"Gigi is a wonderful person, sincere and cheerful. There were never any resentment between us. Indeed, we built a strong connection. We were always room-mates. 
"I remember one episode, in particular, after I'd joined [Didier] Deschamps' backroom team as a goalkeeping coach.
"He was fresh from becoming a World Champion in Germany but Juve were in Seri B, so everything felt strange.
"But when we'd practically secured our return to Serie A, we got to talking about the future and I told him that if he were to stay at Juve, he would become a legend; one of the cornerstones in the history of the Bianconeri. And that's how it turned out.
"Our relationship always remained unchanged. Even when I returned as goalkeeping coach, our dynamic changed a little on a professional level, for obvious reasons of hierarchy, but our relationship always remained ideal."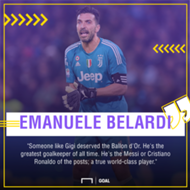 Emanuele Belardi also arrived at Juve had been relegated to Serie B as part of the fallout from the Calciopoli refereeing scandal. He, too, found Buffon to be the perfect team-mate. 
"When I arrived in Turin, the impact with Gigi was extremely positive," explains Belardi, who spent two years with the Bianconeri.
"He is a golden boy, always ready to joke and play around. Even today, he's always available to meet up in spite of his thousands of commitments. 
"Never did it weigh on you the comparison between a great champion like him and his understudy."
As a result, while Belardi is disappointed that Buffon has yet to win the Champions League, he believes the great sporting tragedy is that the Carrara native never received the Ballon d'Or, in light of what he represents both as a player and a sportsman.
"Someone like Gigi deserved that recognition," he argues. "He's the greatest goalkeeper of all time. He's the Messi or Cristiano Ronaldo of the posts; a true world-class player."