Ligue 1
Buckley: What Keagan Dolly needs to do succeed in Europe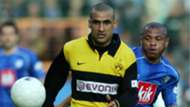 Legendary Bafana Bafana midfielder Delron Buckley has stated that Keagan Dolly, 24, can reach the highest level in European football.
Dolly realized his dream of playing in Europe when he joined French Ligue 1 outfit Montpellier from Mamelodi Sundowns midway through the current season.
Former Borussia Dortmund and Mainz 05 left-winger offered some advise to current Bafana international Dolly, who is also a left-footed winger.
"Wherever I go, everyone tells me 'Keagan Dolly is just like you 'Bucks', just like you, same mentality, and skills, same speed'," Buckley told the media.
"Same left footer and some resemblance [he laughs]. He can reach the highest level and he has shown that at Sundowns and but he just needs to show it in Europe and I'm sure he will," he continued.
"He has all the skills, speed and a dangerous left foot and I'm sure he'll make us proud. [Dolly should] maybe take more responsibility in the game when he gets the ball and don't be scared on taking on players and that is what I used to do," Buckley indicated.
"Whenever I used to play, if 'Bhele' Siyabonga Nomvethe couldn't get the ball from the back, I had one thing in mind; play in front of me I'm going to take him [my marker] on and I don't give a damn who it is, I'll go passed him, and that is what he wants to do," he added.
"He must do more of that and I'm sure people in South Africa want to see more of him taking on, more going forward and more putting crosses; not always getting the ball and playing it at the back, simple," he stressed.
"Anyone can do that [play the ball backward], any footballer, even my daughters can do it at home. But he must get the ball and take [players] on and take his chances," Buckley concluded.