Belgium v Republic of Ireland
Broken Belgium should fear united Ireland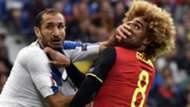 ---

COMMENT 
---
In a tournament overshadowed by fan violence and hooliganism, the jovial spirit of the Republic of Ireland's supporters has been an inspiration to followers of other teams. Off the pitch, fans have soaked in the Euro 2016 atmosphere, joining together to celebrate the on-pitch action.
Simiarly, on the pitch, Ireland are a team enjoying themselves. Despite letting a 1-0 lead slip against Sweden in their Group E opener, the Boys in Green were in positive spirits after the game. Goalscorer Wes Hoolahan was the star player against Sweden, but lauded his teammates for their performance. 
"I'm pleased with the performance, we played really well - created a lot of chances in the first half and went ahead in the second half," Hoolahan told reporters.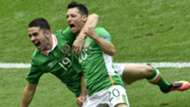 All round the Ireland camp, the mood is upbeat. This is an Ireland team who are not blessed with world class stars, but instead have a unity and spirit that few opponents can match.
Manager Martin O'Neill has fostered a belief in the camp that this is a side capable of getting results against anyone - something they have shown against Germany in qualifying, taking four points from the world champions.
O'Neill is cautious of the talent at Belgium's disposal. "They have, if you look at them, the most talented set of individual players at the tournament. They are very, very dangerous," the former Sunderland boss said.
However, despite their bevy of top flight stars, Belgium's so-called 'golden generation' have underachieved on the pitch, showing themselves to be a group of individuals and not a team. This was clear in their opening clash, as they lost 2-0 to a disciplined Italy side. Like Ireland, Italy are well-drilled and knew exactly how to cause problems for their opponents.
"We were outclassed on all fronts," goalkeeper Thibaut Courtois told Sportwereld. "Tactically, technically and organisationally we came up short."
The Chelsea stopper's quotes did not sit well with manager Marc Wilmots, claiming "interviews after the match are always dangerous."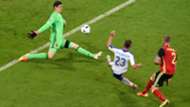 Belgium should have been trying to pick themselves up after the defeat, but instead played a public blame game, which has put further pressure on their boss to turn talent into results.
Eden Hazard and Kevin De Bruyne both picked up knocks ahead of Saturday's game, meaning they will not have as much time to train as possible, while Wilmots has difficult decisions over which back four to select, with a paucity of full-back options meaning Montreal Impact's Laurent Ciman was exposed in an uncomfortable position.
Wilmots may alter his defensive strategy against Ireland, but his attacking stars will need to do better than they did against Italy to break down a dogged Ireland defence. Against Sweden, the Boys in Green allowed no shots on target, and could be content to sit back and counter, just like Italy did so well on Monday.
The Red Devils may have the stars, but Ireland have the belief to take all three points at Nouveau Stade de Bordeaux, putting one foot in the knockout stage while pushing broken Belgium one step closer to ignominious failure.