UEFA Champions League
Borussia Dortmund's game with Monaco called off after explosion hits team bus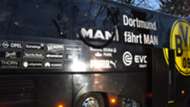 Borussia Dortmund's Champions League tie at home to Monaco on Tuesday has been called off after an explosion hit the hosts' team bus en route to the stadium.
Marc Bartra was hospitalised with a cut from the detonation, which has led to the game being moved by 22 hours to Wednesday night for security reasons.
Confirmed: Neymar out of Clasico
"Following tonight's incident involving the Borussia Dortmund team bus," UEFA stated, "the Champions League match between Borussia Dortmund and Monaco has been postponed until tomorrow [17:45 UK time].
"This decision was made after a meeting held at the Westfalenstadion between UEFA, representatives of the two clubs and local authorities."
Police in Germany have confirmed that three explosions hit the Dortmund bus.
Bei der Explosion wurde @MarcBartra verletzt und befindet sich derzeit im Krankenhaus. Gute und schnelle Genesung, Marc! #bvbasm

— Borussia Dortmund (@BVB) April 11, 2017
"In the build-up to the Champions League match between BVB and Monaco there was an explosion in the vicinity of the BVB bus shortly after 19:00," an official statement reads.
"The scene of the incident is Wittbraucker Strasse / Schirrmannweg in Dortmund-Hochsten.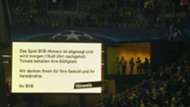 "To our knowledge the windows of the bus are cracked - fully or partly - and one person was injured. 
Bartra injured in Dortmund bus explosion
"What kind of explosion it was and where exactly something has detonated is not clear at the moment."
The one person injured is former Barcelona defender Bartra and Spanish media outlets claim the player's mother says he's suffered an arm wound in the incident.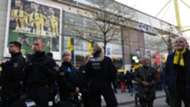 The severity of Bartra's arm injury is believed to be minor as details begin to emerge on the explosion in Germany.
Monaco tweeted out a video showing fans of both teams in Signal Iduna Park applauding the absent BVB players in a show of support.
Le parcage manifeste son soutien à Dortmund et son public ! #BVBASM pic.twitter.com/s3pqwvwzTt

— AS MONACO 🇲🇨 (@AS_Monaco) April 11, 2017
Dortmund vs Monaco's new kick-off time is 17:45 UK time to avoid clashing with Bayern Munich's Champions League quarter-final, which begins two hours later.