Newcastle United
Benitez: Newcastle's form more important than my future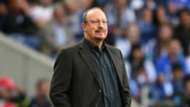 Newcastle manager Rafael Benitez is insistent that his discussions over his future at the club is an issue he is happy to leave until the new year as he looks to guide his side to another impressive Premier League finish.
The Spaniard's stewardship at St James' Park saw him take the Magpies to an unexpected 10th-place finish in their first season back in the top tier of English football, a result that the coach describes as a "miracle".
He was expected to sign a contract extension before the new campaign began, but talks broke down after Benitez was unable to receive assurances over control on transfer spending.
The 58-year-old, however, says that the matter is not a pressing concern to him and that his focus remains fully on the pitch following a tough start to the 2018-19 season.
"I know I will be asked about it, but for me it isn't a big thing," Benitez told a press conference ahead of his side's home encounter with Chelsea. "It is the same for the fans and the players. They are just thinking about the games.
"I would like the contract issue to be parked, because it does not change anything. Can I change something now? No. So I have to concentrate on those things I can influence, like the players and the preparations for the game.
"As a manager, what do I want to do? I want to win every single game if I can. We can talk about the future in April. But until then, I just want to think about football."
Newcastle's summer spend total of just over £25m ($32m) represented the third-lowest investment made in the Premier League during the transfer window, with the club elsewhere recouping more than £45m in outgoing sales.
Benitez further acknowledged that a failure to recruit come the new year could leave serious consequences at the club, both with regards to his own future and Newcastle's hopes of remaining in the top tier.
"I don't want to say whether January will influence [contract talks]," he added. "If the team is doing well, it will be easier to talk about the future. If the team is a disaster, it will also be easier to talk about the future."
Newcastle face Chelsea before travelling to Nottingham Forest on August 29 for the second round of the Carabao Cup.