Barcelona
Barcelona bound? Reborn Milan star Deulofeu showing why he was once compared to Messi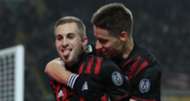 ---

COMMENT
---
Ronald Koeman had "no problem" with letting Gerard Deulofeu leave Everton for AC Milan during the January transfer window. After all, the Dutch coach had publicly criticised the winger for a perceived lack of effort after just one game of his Goodison Park tenure.
Deulofeu future will depend on new Barca boss
"You can see with Gerard that it's still not there for 90 minutes," Koeman stated after the season-opening draw with Tottenham on Merseyside. "It's all about the work-rate of the player."
Deulofeu did nothing to change his manager's mind over the following five months and was allowed to join Milan on loan in January. Presumably, Koeman had wanted the same level of unchecked aggression from the Spain international that should have resulted in both Ashley Williams and Ross Barkley being sent off in Saturday's Merseyside derby.
RUMOURS: Alexis chooses Chelsea
Certainly, while Deulofeu has not been launching himself recklessly into challenges since arriving at San Siro, his commitment to the Milan cause cannot be questioned. Indeed, the Spaniard is excelling under Vincenzo Montella, a coach who has allowed him to focus on hurting opponents with his pace rather than rash tackles.
On Sunday, Deulofeu helped Milan recover from the Gigo Donnarumma error that gifted Pescara the lead at the Adriatico by making the blistering break that led to Mario Pasalic's equaliser.
Just seven weeks previously, the pair had also combined for the only goal in a crucial 1-0 win at Bologna. Pasalic was again the goalscorer but Deulofeu took all the plaudits for capping a tireless display with a moment of magic.
With his side down to nine men following the dismissals of Gabriel Paletta and Juraj Kucka, the Catalan was asked to plough a lone furrow up front for the final half hour, alleviating the incessant pressure on the Milan goal whenever he could.
However, when presented with the opportunity to take the ball into the corner and run down some of the remaining 60 seconds of normal time, Deulofeu decided to do something different.
He took on Daniele Gastaldello, burning the centre-half for pace close to the right touch-line, before then threading the ball precisely through the legs of Emil Krafth, leaving Pasalic with a simple tap-in.
'Messi suspension a good thing'
It was an outrageous show of skill, one that Deulofeu would probably never even have dared to attempt under Koeman at Everton.
Indeed, back in December, he told The Liverpool Echo: "I am not a defensive player, my best [position] is in attack, and I don't know but maybe I am playing better in defence than attack.
"This is not normal. I need to score goals, I need to make assists because if not, then I am not Geri."
Montella, though, has allowed Deulofeu to be himself again. That is why he has racked up one goal and three assists in just 10 outings in Serie A, after failing to create or score a single goal during his 11 Premier League matches under Koeman.
It is why he earned his second Spain cap last week against France, almost three years after his first, and turned in a virtuoso performance, opening his international account as well as winning a penalty.
It is also why Barcelona are now considering enacting the €12 million buy-back clause they inserted in Deulofeu's contract when he joined Everton on a permanent transfer in 2015.
Deulofeu now looks like the player that got everyone so excited when he first broke into the Blaugrana's B team in 2011 when he was only 16. But then, hype was always part of the problem.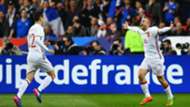 Deulofeu had done a deal with Nike by the time he was 14 and he revelled in the attention, once telling opponents as he was being replaced during a youth-team match, "Pass by the dressing room afterwards and I'll give you an autograph."
However, the cocky kid could not deal with the inevitable comparisons with Lionel Messi that followed. "It was more harmful than beneficial," he told Forza Milan last month.
"Normally I don't read the newspapers, but I remember those headlines well and it ended up hurting me because there were too many expectations on me from Barcelona fans.
"There is only one Messi."
It was hardly surprising, then, that Deulofeu needed to escape the Argentine's shadow in order to shine. He flourished during a loan season under Roberto Martinez but struggled during his temporary stay at Sevilla.
Liverpool will still beat Man Utd to CL spot
A return to Goodison Park looked like a good move but Deulofeu was unable to reproduce his best form during a disappointing final season at the helm for Martinez.
The arrival of Koeman as coach only further eroded his self-belief. The Dutchman hoped that by criticising Deulofeu, it would provoke a positive backlash but, by that point, the Catalan had already changed.
He was no longer a cocky kid but a confidence player, one who needed support not criticism. Besides, he had already displayed a willingness to take on more defensive responsibilities. It was not as if he was ever against them, either.
As a youngster, he had been regularly taken aside by former Barca boss Pep Guardiola after training and told he couldn't just focus on going forward.
"He would show me some actions and movements in defence because when I was 17 or 18, I would always think only about attack," he said of the man who gave him his Blaugrana debut.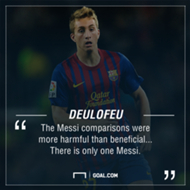 Deulofeu took the advice on board. By the time he had arrived at Everton, he no longer had an ego, with Seamus Coleman publicly praising him for his down-to-earth attitude.
He has matured even more over the past nine months, though. In many ways, being ostracised by Koeman was the making of him, because even when he wasn't playing, he was working hard on his game.
Liverpool's shocking stats without Mane
"In my daily work, I am much more professional," he told Goal after becoming the Spanish Under-21s all-time record goalscorer in November. "It shows in every training session, and even if you do not play, you are happy because you know that there is no doubt about your attitude in training and your sacrifice."
The hard work is now paying off on the pitch. His future is undecided but it now almost certainly lies in either Milan or Barcelona.
As long as the latter don't turn to Everton's current boss to succeed Luis Enrique at the helm this summer, Deulofeu will have a smile on his face no matter the next destination. Essentially, no Koeman, no problem.