Transfers
Barcelona '200 per cent' certain that Neymar will stay amid PSG rumours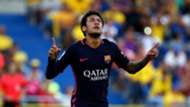 Barcelona are "200 per cent" confident that Neymar will stay put this summer, while the La Liga giants remain coy on interest in Marco Verratti.
The Catalan side have been forced to speak out in the wake of reports suggesting that their Brazilian forward has emerged as a big-money target for Paris Saint-Germain.
It has been suggested that the Ligue 1 side are willing to pay the €222 million (£197m) release clause in Neymar's contract.
Bet on Barca v Juventus in ICC
Barca have, however, sought to quash the rumours by publicly announcing that they have no intention of parting with the 25-year-old.
Vice-president Jordi Mestre told a press conference on Tuesday: "At 200%, Neymar will not leave the club this summer.
"This morning I read that the PSG denied it flatly. There is no reason to change the relationship between clubs."
While moving to rule out one piece of business with PSG, Barcelona remain reluctant to comment on another mooted deal.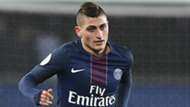 Italy international midfielder Verratti has long been reported to be a top target for the club, with that interest expected to be stepped up this summer.
No deal has been done, though, and the 24-year-old has gone as far as to apologise for comments made by his agent regarding a possible transfer.
With Barca reluctant to be dragged into another debate, Mestre has endeavoured to steer around the issue when quizzed on the interest once again.
Alves urges Verratti to snub Barca
He said: "We will always talk about players who are part of our squad, we will not talk about players who are not."
Mestre did, however, admit that "this is a very attractive club and that makes many want to be here".
New Barca boss Enresto Valverde recently said on the pursuit of Verratti , among others: "If it happens, then that would be great.
"The club is working hard for the squad to have the best players. But my idea is always to work with the players in my squad."