Nigeria U17
Coach Bala Nikyu not giving up on Flamingos' World Cup ticket pursuit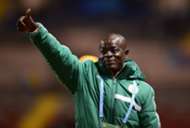 Nigeria U17 women coach Bala Nikyu says his side still have a lot to fight for as they face Cameroon in 2018 Fifa U17 Women's World Cup qualifying on Sunday.
The Flamingos are on the brink of missing the World Cup for the first time in their history with a 2-2 final round, the first leg draw in Benin City a fortnight ago.
And the tactician believes they have what it takes to upset the Junior Indomitable Lionesses in front of their fans at the Ahmadou Ahidjo Stadium.
"There is no match that is small and there is none that is big anytime you play a match, small or big, you are using it to gain something," Nikyu told Goal.
"Cameroon scoring 11 goals in two matches, I think if I am not mistaken, in 2016, we scored 19 goals to qualify for the World Cup, so Cameroon are not a spectacular team as people think. They happened to meet teams like Algeria.
"If Nigeria meets a team like Algeria, we will be counting goals. If we had a better referee in the first leg, we would have beaten them.
"I don't have any doubt about that. And even as we are going to Cameroon now, I don't even have any doubt. I am just praying that we have somebody who can stand neutral in the game.
"If Cameroon can come to Benin and score two goals, what stops me from scoring two or three goals in Cameroon?
"They played 1-1 in Nigeria and went to their home and defeated them 2-0. So there is nothing that is not possible in football.
"We are going out to play. The first leg did not go the way we wanted and we are desperately in need of the ticket, so we are going out to play and get what we want."
Nikyu will be hoping for a win or a 3-3 draw in Yaounde to ensure Nigeria qualify for her sixth consecutive Fifa U17 Women's World Cup in Uruguay later this year.