I-League 2nd Division
Winds of change hitting football in desert state with formation of AU Rajasthan FC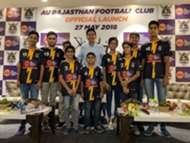 Rajasthan is a name which has barely found a mention in the Indian football landscape in the past few decades. The Rajasthan Football Association was even barred from the All India Football Federation (AIFF) due to various disputing factions in 2007 and only recently reinstated. No club from the largest state in the country currently finds a place in any of the top or second tier of Indian football.
That could all change soon though if the founders of AU Rajasthan FC have their way. With a young CEO in the form of Sohil Bhansali in tow, the newly formed club is looking to change the picture across the vast state.
The 27-year-old Sohil has represented Rajasthan at the national level previously while also making it to the India U-17 camp. For him, the passion for the game has been there since his school days. Forming a professional football club was his dream when he passed out from school but has taken 10 long years for it to come to fruition.
"10 years ago, as soon as I passed out from school, we started with leagues in Jaipur, Varanasi and Delhi. From 2009 to 2013, we had conducted these leagues. The concept was to bring together 150-180 children from different schools in these cities, divide them into teams and give them a platform to play," he said in an interaction with Goal.
"We wanted to build up a club that time as well but there were so many constraints those days with your grounds, your affiliations, etc," he added.
It was the things he lacked during his playing days that drove Sohil to form a professional football club. 
"I myself had been a footballer so I knew the actual ground challenges which we were facing, basically proper facilities and coaching," he quipped.
"So that's how the concept of the club was conceived, to provide professional training with affiliated coaches. Most of the coaches in school level do not have affiliations. They have played football in their younger days and gone on to become coaches in school. 
"What we have targeted is only certified coaches from AIFF, UEFA and FA. These certified coaches can at least give them that level of confidence and platform which we can build up upon."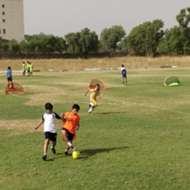 While the coaching aspect of the club had been sorted, Sohil and his team has bigger mountains to cross.
"The next challenge was finance and then the other affiliations. I am happy that Rajasthan FA and AIFF were all-out in supporting us and we achieved that target. The club is now being financed by the AU Small Finance Bank so that hurdle was crossed and the club came into formation," he stated.
Though the history of football in the state is not so illustrious, the Rajasthan FC CEO remains enthusiastic about the potential and has no doubt that he has made the right choice.
"If you see the talent, it's not compulsory that footballers from Manipur, Mizoram and Goa can be there in the Indian team. Football needs to be developed across the country so why not start from my own hunting ground.
"Also, if you see the current Indian Super League and I-League, there is no club from Rajasthan. Even the association was barred (by the AIFF) for quite a while. Now that the Rajasthan Football Association (RFA) and everything else is in order, why not take it up and running since it's a golden opportunity to develop football here. There is ample passion, even at school level and college level.
"It is not only present in urban cities likes Jaipur and Jodhpur and Udaipur. Even when we go to rural tier three cities like Beawar, Dausa, Bikaner and Churu, people are crazy about the sport. The only thing lacking is they do not have the correct platform to build upon their skills and drive their passion forward."
The Jaipur-based club aim to participate in the second division of the I-League by the next year in their two-year goal.
"Our two-year goal is to participate in the I-League second division. As you know, to participate in the second division, we need to first compete in the state league. So in the coming year, we hope and plan to play the Rajasthan state league and then hit the I-League next year," the young CEO stated.
While their plan sounds very simple on paper, it will take some doing to execute it on time, given the disarray Rajasthan football has been over the years. The newly-elected RFA are currently in the process of planning a stage league and the club is doing its best to support the body in its endeavours.
"So this is the next thing which the club will be assisting in. To organize a league, you need teams and the finance. What we are doing is encouraging corporations to come up and support the RFA in planning a full-fledged league for Rajasthan," Sohil said.
"I have had a discussion with RFA officials and they are very well underway in their planning and execution process for the league. It is being planned on paper currently and should most probably materialize by this October or November."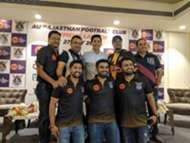 The newly-formed club will not be restricted to just boys but girls as well with a few of them already being recruited.
"We would also launch a women's team and have already started enrolling a few players. We won't be having a youth women's team but we will have lower age groups for them. For them, we are starting from the age group seven. The plan has already been put into action. The actual challenge with the women's team is building up the confidence in parents that it is not only boys but also the women who can go out and play and shine," Sohil explained in detail.
Knowing the pitfalls of rushing into the professional leagues too early, Sohil and his team have already completed most of their coaching recruitments and plan to hit the ground running in preparation for the eventual switch.
"We would 100 per cent be doing our proper homework. We won't obviously be just focusing on the Rajasthan league but we would also be playing matches across the country and state to get that exposure and match practice," he said.
"The long-term ambition is, of course, to represent Rajasthan in the top-flight, in whichever league continues in India – the ISL or the I-League. But apart from the club level, we also want to focus on our human resources," the CEO stated.
"The ideal scenario would be players from our club to go out and play abroad in countries like Spain, Netherlands and Italy, maybe even the third division, but we want them to go out and get that exposure. There have hardly been any Indians who have played abroad so what we want to do is to make our players capable enough of going to these countries and representing India," he added before signing off.
Whether the club do hit the heights they intend to remains to be seen, but for now, Rajasthan FC and Sohil's efforts to put Rajasthan back on the football map of India is a highly welcome and much-needed move.