African All Stars
Asamoah talks about life at Juventus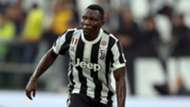 Juventus ace Kwadwo Asamoah appears indifferent to his peripheral role at the club, having stated his desire to do the bidding of coach Massimiliano Allegri.
The utility man has been reduced to a squad player at Allianz Stadium over the last three seasons, and his injury problems have done little to help his cause.
With his limited opportunities, coupled with his expiring contract at the end of the season, the agitated 29-year-old has been rumoured to be pursuing a move away, with the likes of Galatasaray and Fenerbahce all said to be interested.
"I'm fine. I feel fit and I'm always available to help my team at any time," Asamoah told his club's official website.
"My position on the field? We haven't experimented too much, so I've continued on the outside but I'm ready to do whatever the manager asks of me starting from training."
Since joining Juve in 2012, Asamoah has laid hands on the Italian Serie A title five times.
Standing between him and his sixth Scudetto, however, are Napoli, who currently hold a one-point lead at the top of the league table.
"We know that Napoli have no intention of giving up and they've been stellar on the road," said, Asamoah. 
"However, we are here to win and the title is lifted at the end. 
"It's important to play well, but in the end the most important thing is to win while scoring as quickly as you can which makes the matches easier to manage."
Juve currently sit second on the table after matchday 21.