Wolfsburg
Arsenal legend Ljungberg leaves Wolfsburg alongside ousted Jonker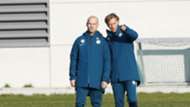 Wolfsburg have sacked manager Andries Jonker, with assistant coach Freddie Ljungberg also departing the Bundesliga club.
The German outfit have taken drastic action on the back of a 1-0 defeat to Stuttgart which has left them sat 14th in the top-flight standings.
Jonker was only handed the reins in February, as he was brought in to help steer the club through a relegation scrap – with victory in a two-legged play-off clash with Eintracht Braunschweig eventually seeing them safe.
He has, however, been given just five games this season, with Wolfsburg taking the difficult decision to move in a different direction.
Managing director Wolfgang Hotze told the club's official website: "The decision is anything but easy for us.
"It was not only the recent impressions of the Stuttgart game, but also the stagnation in the development of our team, which was newly formed in the summer. 
"We thank Andries Jonker and his training team for what they achieved with VfL last season, but we have finally come to the conclusion in our internal deliberations."
One of Jonker's first moves upon taking the Wolfsburg post was to bring in Arsenal legend Ljungberg as one of his assistants.
The Swede has, however, also been shown to the exits, alongside fellow coach Uwe Speidel.
The position had been Ljunberg's first at senior level, having left a role within Arsenal's academy system to accept the job in Germany.
Wolfsburg are now in the process of identifying potential candidates to fill their managerial void, with the club eager to make an appointment as quickly as possible.
For now, they will work under a caretaker coach, with the club taking in a Bundesliga meeting with Werder Bremen on Tuesday before travelling to defending champions Bayern Munich on Friday.