Ghana
Armando slams Ghana assistant coach Konadu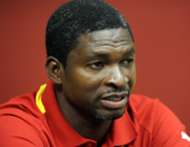 Former Ghana striker Baba Adamu Armando believes the reappointment of Maxwell Konadu as Black Stars second assistant coach will not be beneficiary to head coach Kwesi Appiah and the country.
Appiah, 56, was handed a two-year contract last week to succeed Avram Grant and although the former Chelsea manager's backroom staff were all sacked, Konadu was maintained as the second assistant after Ibrahim Tanko.
"Maxwell Konadu's addition to Kwesi Appiah's technical team will not help. He has been planted there to gossip by sending information out to his masters. When he was the deputy to Kwesi Appiah and Avram Grant between 2012 and 2017, did he have another coach as a second assistant?" Armando told Happy FM.
"So, if Kwesi Appiah has been re-appointed and he has brought Ibrahim Tanko as his assistant, what is Maxwell still doing there? Why didn't Ghana FA throw him out of the team so that Kwesi Appiah can have his peace of mind or someone has an interest in him there. This will not help Appiah and Ghana in any way," he added.
Armando also advised the football association to work hard to groom the Black Starlets after the team qualified to the semifinals of the ongoing Africa U-17 Cup of Nations in Gabon.
"The Black Starlets have done well and should be maintained for a long time even after the World Cup in India. Our leaders should keep this team and should not joke with them to jeopardise their future.
"We all saw the Black Satellites squad in 2009 which had Andre Dede Ayew, although they were good, later on they were dispersed. I'm appealing to the leaders to maintain and groom these players to some level because in the future, they will do well for the country at the highest stage," he added.
Armando was part of the Black Stars squad that helped Ghana to qualify for their first-ever Fifa World Cup in 2006 in Germany but could not make the final list after being named in the provisional squad.