Arda Turan
Arda Turan slapped with biggest fine ever in Turkish football after alleged nightclub brawl with singer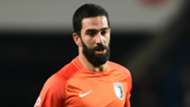 Arda Turan has been fined approximately €370,000 by Istanbul Basaksehir after he was allegedly involved in a fight with Turkish singer Berkay Sahin.
The 31-year-old, who is on loan at the Super Lig club from Barcelona, admitted in an Instagram post that he had been caught up in an "argument" but claimed the details of the incident had been exaggerated by the media .
Those media reports claimed that a fight occurred with the singer after Turan approached Berkay's wife.
He is reported to have said: "If I was not married, I wouldn't miss a girl like you," prompting Berkay to approach the former Barcelona player.
Berkay then allegedly sent his wife home so he and Turan could "talk man to man," and Turan reportedly punched him and broke his nose soon after.
The reports add that, later that night, Turan took a gun to hospital and said to Berkay, "I didn't know she is your wife. I'm sorry, just kill me".
Despite Arda's denials over the details of the incident, Istanbul Basaksehir called an extraordinary board meeting on Tuesday to discuss the case and confirmed via a statement that they had fined Arda.
It is said to be the heaviest punishment of its kind ever issued to a player in Turkey's top flight.
The statement read: "As this matter is now with a court of law, and reserving the right to make additional decisions and sanctions, we have fined Arda Turan 2.5 million Turkish lira and we would like to inform the public that our player's professional obligations to our club will continue until the court makes its final decision in this regard."
According to Anadolu Agency, prosecutors are calling for 12-and-a-half years in prison for Arda, while Berkay could also receive a shorter custodial sentence.
Turan joined Basaksehir on loan from Barca back in January 2018 until the end of the 2019-20 season after struggling for game time at Camp Nou.
And he hasn't been far from controversy during his time in Turkey, with an incident in May seeing him sent off for shoving an assistant referee which saw him receive a 10-game ban.