Patrick Vieira
'Anything can happen' - Vieira leaves door open for future Arsenal move but denies club contact
ORANGETOWN, N.Y. — Arsenal legend Patrick Vieira has hinted that "anything can happen" when his New York City FC contract expires at the end of the season, but insists no contact has been made about succeeding Arsene Wenger as manager this summer.
Vieira's third season in charge of New York City FC has started off excellently. Although the team's unbeaten run ended with a 3-0 loss in Portland on Sunday, NYCFC is still widely regarded as one of the best teams in Major League Soccer, and the World Cup 1998 winner is seen as one of the league's best coaches.
Vieira is among the long list of potential candidates that includes Germany's Joachim Low, Juventus' Massimiliano Allegri and fellow ex-Gunners star Thierry Henry following Wenger's announcement that he'll depart Arsenal at the end of 2017-18 Premier League campaign.
When asked whether he'd been contacted about the soon-to-be-vacant role at the Emirates Stadium, Vieira refused to rule out a return to his former club in 2019.
"Honestly, and seriously, no," Vieira, who is in the final year of a three-season contract with NYCFC, told reporters at the launch of the MLS franchise's new training facility on Tuesday.
"Why haven't I been contacted? I still have [a contract], of course, [until] next year. It's going to be my contract at least until the end of the season.
"And then after that anything can happen, but I have a contract until the end of the season."
A former standout at Arsenal and captain of the Invincibles team that finished the 2003-04 season unbeaten in the Premier League, Vieira was one of the first linked to the job and seems a natural fit.
Sol Campbell, another Invincibles icon, tipped Vieira and ex-Arsenal forward Dennis Bergkamp to team up in a coaching capacity at the North London club, with Wenger expected to take another elite European role or a top job in Asia.
When asked by Goal on Tuesday how he has improved as a coach from the start of his NYCFC tenure to now, Vieira gave a thoughtful and detailed answer before cracking a wry smile and pausing to consider the line of questioning.
"If the question is if I'm ready: yes I'm ready," the 41-year-old said, sending a clear message to anyone who may still be wondering if he is capable of handling a move to coach in Europe.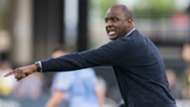 Vieira arrived in MLS in 2016, taking over a team that endured a terrible inaugural season. At the time he had never coached a professional first team before, with the bulk of his coaching experience consisting of managing Manchester City's reserve side. He helped transform NYCFC into an immediate playoff contender in 2016, and turned the team into one of the league's best in 2017.
The 2018 season is shaping up to be NYCFC's best chance at lifting an MLS Cup title, with David Villa leading a strong and balanced squad that has replaced aging stars like Andrea Pirlo and Frank Lampard in recent years and brought in young difference-makers such as Jesus Medina and Yangel Herrera.
Vieira's success with NYCFC has helped boost his profile in Europe, where he is seen as a natural replacement for Wenger, and some think he could even be a viable option to replace Pep Guardiola at Manchester City - NYCFC's sister club - when the Spanish manager's time with the club is up.
Vieira doesn't seem too bothered by the rumors, seeing them as a product of his success in MLS.
"When your name is linked with big teams in Europe it's good. That just shows that people are following what you're doing and you're doing a good job," Vieira said.
"I'm really pleased with that. What is important for me is to focus and concentrate about what I'm doing at the moment. My head and my mind and my energy is on how to win the next game."