Manchester United
Angel Gomes advised how to unlock 'unbelievable potential' at Man United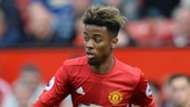 Angel Gomes has been offered advice by Scott McTominay on how to unlock his "unbelievable potential" and become a first-team regular at Manchester United.
The 17-year-old made his first-team debut against Crystal Palace on the final day of the 2016-17 campaign.
That outing saw him replace outgoing club icon Wayne Rooney, with Old Trafford witnessing a changing of the guard.
Gomes has been billed as a superstar in the making for some time and is now being challenged to make good on that promise and force himself into contention under Jose Mourinho.
After seeing the youngster join training on Thursday, fellow academy graduate McTominay told MUTV: "Ultimately, it's about working hard and listening to his coaches.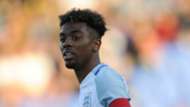 "He's got a really good coach in Kieran [McKenna], who pays really good attention to detail and that's one of the most important things at that age when you're learning – you can become such a better player, so that's one of the main things for him.
"He just needs to be himself and, every game that he plays in, if he comes up with the Under-23s, to try to dominate those games. Hopefully, he can do that and kick on and become a really top class player.
"I remember when Angel was 13 years old, and even nine or 10 years old, and he had unbelievable potential.
"It's really nice to see that he's signed his professional contract. I just want to say congratulations to Angel and all of his family because he does deserve that.
"He's one of the most hard-working lads that you can meet so I'm really pleased for him and, hopefully, he can kick on now and come to the first team and keep going the way he's going."
Gomes signed his first professional contract at United on December 13, with those terms completing a memorable year for the youngster which also included an U17 World Cup triumph with England.