Chapecoense
'All you can do is pray' - Chapecoense survivors remember plane tragedy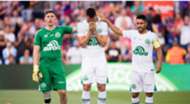 The survivors of Chapecoense's fatal plane crash have retold their story as the Brazilian club continues to rebuild following the disaster. 
Almost the entire first team was lost when the LaMia flight went down outside Medellin on the way to the Copa Sudamericana final against Atletico Nacional in November 2016. 
A total of 71 of the 77 passengers onboard were killed, in one of the worst air disasters ever to hit professional football. 
Chape players Jakson Follmann, Alan Ruschel and Neto miraculously survived the crash, and recalled the desperation that surrounded them in those fateful minutes. 
"I was doing some card tricks. I always liked to do that. We were all laughing and playing pagode (Brazilian samba music)," Ruschel said to the Player's Tribune. 
"It was a group of people that were extremely happy to be making history, regardless of whether or not we became the champions. We were taking a club from a small town in Brazil to the final of the Copa Sudamericana. So we were really happy.
Follmann remembers that "It was an easy flight. Until all the lights in the plane shut off. There was just silence. Suddenly, everyone sat down. People wanted to know what was happening, but the flight attendants weren't saying anything. Then a few minutes before we fell, the flight attendant passed by and said, 'Put on your seatbelts, because we're gonna land now.'
"It was very calm. Nobody announced anything on the microphone. And then we started to fall.
"Not many people on earth have gone through that moment before. One second you are on your way to conquer your dreams with all your friends and everyone is happy, and then the next second all the power shuts off on the plane, and you are falling from the sky.
"I only had time to pray and ask God to protect me. Inside the plane, you can't do anything. You can't run, you can't cry, you can't ask for help, you can't ask why. All you can do is pray and leave your life in God's hands."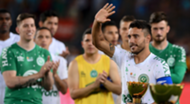 For Neto, the moment he realised the plane was going down he began to reach out to God for aid. 
"I remember my last words in the plane. I was praying, praying, praying out loud," he said.
"When I saw the airplane was definitely going to fall for real … I said, "Jesus, Jesus, I read in the Bible that you made so many miracles. Please, please be merciful of us. Look after us. Help us. Help the pilot. Help us in this plane. Be merciful. Please, Jesus, help us."
"Even praying to a God who is so powerful, looking at the situation with human eyes, I knew it was impossible. My last and only resource was prayer."
The flight went down in dense vegetation outside Medellin, making rescue work difficult. Follmann described the moment he was spotted by officials having sustained serious injuries in the crash. 
"The sergeant told me that it was the most horrible scene he had ever witnessed in his life. He tried to lift me up from my back, but he couldn't because I was feeling a lot of pain. Terrible pain. Because in the accident, I had already lost my right foot. And my left foot was just hanging by the tendons," he recalls.
"They picked me up and had to carry me up a muddy hill. It was very difficult ground, and it was really dangerous because pieces of the plane were everywhere, and they were extremely sharp. Those rescuers, they are heroes.
"I remember asking for water, and they gave me a drop of water, and then I blacked out."
But nevertheless, the goalkeeper, who lost his leg in the accident, insists that he is thankful for having been given a second chance after seeing so many friends perish.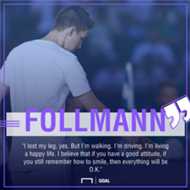 "It's only been eight months since the accident. You can't find an explanation — for the crash, for us surviving. I have learned to stop searching for the answers. After five months of rehab, Alan is going back to play with Chape. He's going to play against Messi tomorrow. Neto was back on the field training really, really well before he injured his knee," he explained prior to August's Gamper Trophy game against Barcelona.
"And me? Well, I lost my leg, yes. But I'm walking. I'm driving. I'm living a happy life. I believe that if you have a good attitude, if you still remember how to smile, then everything will be O.K. I didn't lose the taste for living. Especially after everything that happened. I have always woken up with a smile, ever since I was a little kid who dreamed of being a goalkeeper. And thank God, I was able to live that dream for 12 years. I was given that blessing in life.
"I live the moment. I live for today. Tomorrow belongs to God."