Transfers
Alderweireld to Man Utd? Campbell claims Spurs star won't emulate his controversial Arsenal switch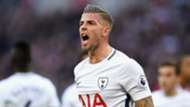 Toby Alderweireld may be stuck in contract stalemate with Tottenham, but Sol Campbell cannot see him walking out to join an arch-rival such as Manchester United.
The Belgium international defender has seen his future called into question after failing, or refusing, to commit to fresh terms at Spurs.
At present, he is only tied to the north London club until 2019 – although his deal does include the option for a 12-month extension.
Triggering that agreement would activate a £25 million release clause, but Campbell believes the situation will be resolved one way or another this summer, preventing that fee being set or the threat of free agency.
A man who famously quit Spurs to join Arsenal in 2001 told Express Sport: "I think my situation was different. I was much younger.
"If a team wants you bad enough they'll make it happen and come to a compromise and either he'll stay at Tottenham or he'll move on.
"I don't think Tottenham will allow him to drift on for 18 months, a deal will be struck either way."
Alderweireld has made just three appearances – with two of those coming in the FA Cup – since returning from injury in February.
Mauricio Pochettino has maintained that his absence is not due to contractual issues, but Campbell is not so sure as the 29-year-old was considered to be one of the first names on the team sheet and one of the finest centre-halves in world football before transfer talk was sparked.
The former England international added: "I don't know what he's demanding wage wise. Is he happy there? I don't know.
"Sometimes big deals need a bit of a conversation and people start at a certain level and then reality kicks in.
"He's a top player, the fans love him. I think they've got to try their best to keep him.
"He likes Tottenham but then something could kick in and the whole situation shifts because the forces have shifted and opinions have shifted and that happens in these big deals. The slightest thing can shift and put it off course."