Al Shabab
Al Shabab complete signing Al Hilal's trio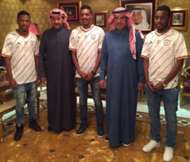 Al shabab of Saudi Arabia have announced the completion of signing three players from Al Hilal.

The players who moved to Al shabab are Khaled Kaabi, Fahad Ghazi and Mohammad Al Qarni.

The club's media center has confirmed the signing of the deals with them players, as Khaled Kaabi signed for three and half years.

On the other hand, Mohammad Al Qarni's deal one and half year with two more years optional for the club.

Al Hilal had made termination agreements with the trio and thanked them for their efforts over their spell with the club; and it wished them good luck with their future.