Al Wasl v Al Ain
Al Ain go top of UAE League after win against Al Wasl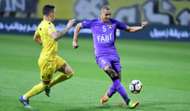 Al Ain defeated Al Wasl in the top of the table clash at Zabeel Stadium in Dubai with a 3-1 scoreline, despite being a man down at half time after defender Mohanad Salem was sent off for a challenge on Fabio de Lima.
This was Al Wasl's first defeat of the league season, after sitting top of the table with 11 games undefeated. Al Ain managed to open the scoring via defender Ismail Ahmed when Omar Abdulrahman sent in a cross from a free-kick. Al Ain went 2-0 up in the second half via another free-kick, with Abdulrahman scoring directly this time.
Al Wasl kept on looking for a chance to get back into the game with 20 minutes to go but new Egyptian signing Hussein El Shahat was found one on one with goalkeeper Sultan Al Montheri from a through ball, chipping him to make it 3-0 for Al Ain.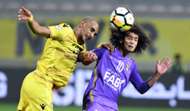 A consolation was all that Al Wasl could get when Caio Canedo finally scored past excellent goalkeeper Khaled Eissa during injury time, but it was also met with the sending off of Ronaldo Mendes for Al Wasl.
Al Wasl move down to 3rd place after challengers Al Wahda moved into 2nd place with 26 points with their win against Dibba, meanwhile Al Ain sit top of the table and undefeated with 28 points after 12 games.