Ligi kuu Bara
Ajibu's goal drought continued as Ngassa become man of the match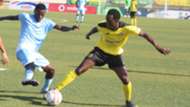 Pius Buswita became the first Yanga player to score a goal at the Nangwanda Stadium after just 6 minutes of the of the game, finishing a half-volley past goalkeeper Jeremiah Kisubi.
The second goal came after 29 minutes, scored by fullback Hassan Kessyfrom a tight angle.
The game was so tough throughout during the first half and both sides played well.
Yanga, being the more experienced side saw the tie go to the interval with a comfortable 2-0 lead.
Yanga were awarded a penalty on the 39th minute, but Congolese midfielderPapy Tshishimbi missed.
Both teams showed their intent to win the game resulting in a good attacking football during the first 45 minutes.
The second half witnessed Ndanda FC taking charge of the match, threatening on every foray forward.
Nasoro Kapama halved his side's deficit from Mrisho Ngassa's through ball, which prompted a nervy finish of the game.
Yanga forward Ibrahim Ajibu's goal drought continued and he has now gone 486 minutes without a goal.
The last time the forward was on the scoresheet was during a game against Mwadui FC at Kambarage Stadium in Shinyanga.
Simba's Emmanuel Okwi lead golden boot chase with 16 goals followed by Yanga's Obrey Chirwa with 11 goals.