Ghana
Afcon worry for Africa's MLS stars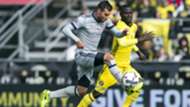 While Caf's change of the Africa Cup of Nations schedule has been hailed by many, other s have been left lamenting the effect of the new development.
On Thursday, the football governing body's Executive Committee passed a resolution to move the tournament from its normal January/February date to June/July following a proposal from the first African Football Symposium a day before.
While the news has been welcomed by followers of the major European leagues as players will no longer have to leave their clubs mid-season for about three weeks, the Major Soccer League appears to be the casualty of the new order as the championship is always in top gear during the months of June and July.
''I think it's gonna help a lot [in general] but with our club, it's not gonna help because we still play during the summer and it's going to be tough for the team, for the country because it's going to come up to a decision,'' Columbus Crew Ghanaian defender Jonathan Mensah said, according to the Columbus Dispatch.
''Although the date is going to favor a majority of the people, I don't really think it's gonna help the MLS. 
"Looking at Columbus Crew, let's say we go three or four Ghanaians and if they were to call up all of us, it's gonna be tough. 
"As I said, it would come back to decision-making and we'll see how it goes.''
The old Afcon order did not have as much effect on the MLS as clubs were mostly in pre-season during the time of the tournament.
The new schedule will take effect from the 2019 tournament in Cameroon.