Africa Cup of Nations
Afcon 2019 players: Victor Wanyama - The Rise Of Series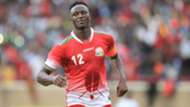 The 'Afcon Rise of' Series is a collaborative initiative between Goal and 3 Kilo featuring up-and-coming writers. 3 Kilo is a development agency that creates opportunities and skills development projects for the youth of South Africa.
The rock solid defensive midfielder, Victor Wanyama is looking forward to this year's Africa Cup of Nations (Afcon) competition in the hope that he can bring his form to the Kenyan national team.
After an amazing 2019 campaign with Tottenham Hotspur, finishing fourth in the 2018/2019 English Premier League and managing to secure the club's first ever Uefa Champions League final, Wanyama says that the Harambee Stars are entering the Afcon with no expectations.
---
  Wanyama's early life  
---
Born and raised in Nairobi, Victor Wanyama comes from a strong sporting family which started with his father playing for Kenyan Premier League (KPL) side AFC Leopards.
As a child, Wanyama and family looked up to the likes of African legends Jay-Jay Okocha, Jose Kadenge and Nwankwo Kanu who were paving the way for other African stars to follow in their footsteps.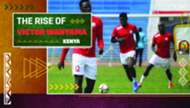 ---
  Wanyama's club career  
---
Wanyama's footballing journey started at the same club his father played for, but it was only when he successfully signed for Belgium side Beerschot in 2008, that his strong dominant style was recognised as a valuable asset in the European leagues.
He then appeared on the radar of top European clubs like Celtic and CSKA Moscow, but both teams failed to secure the signature of the midfielder. Eventually, the Scottish champions and Wanyama agreed terms to make him the first ever professional player from Kenya to feature in the Scottish league.
Wanyama's popularity grew at the club, being nominated as the Scottish Young Player of the Year as well as netting a couple of memorable goals like the club's 2-1 win against Barcelona in the Uefa Champions League in 2012.
The Spurs midfielder mentioned that one of the most memorable things he will remember about Celtic is the Old Firm derbies. He said, "It's indescribable, only the players that have been there will understand the feeling."
Keeping to his Kenyan trailblazing style, Wanyama then got signed by Southampton making him the first ever Kenyan to play in the English Premier League.
During his stint at the Saints, regular game time and the trust of his coach, Wanyama became a frequently mentioned name in the Premier League and bagged the Honorary Presidents Choice Player Award while with Southampton.
---
  Wanyama's career at Spurs
---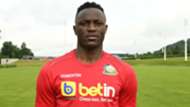 Wanyama's stellar form was confirmed when he found himself frequently mentioned in conversations with top clubs like Arsenal and Spurs.
Luckily for Spurs, their coach, Mauricio Pochettino and Wanyama shared the dressing room at Southampton and the Argentine was very keen on bringing him to the Lilywhites side of North London.
Pochettino was frequently quoted mentioning how Wanyama and his power in the midfield would be a perfect fit for Spurs. In 2016 he became the first summer signing for the club.
Wanyama has never been shy of using his sturdy structure to get between the opponent and the ball. Many refer to him as the 'Lion of Muthurwa' when looking to Wanyama's beastlike presence.
"Yeah…. they call me the beast," Victor Wanyama chuckled during an interview with Jeff Koinange on Citizen TV last year.
Wanyama's lockerroom activities make him the perfect all-round leader. He is well known as a prankster that doesn't talk much to give away his game, says his Tottenham teammates.
This past season the Kenyan captain has had his fair share of injuries, forcing him to spend almost half of the Premier League season on the sidelines. The 27-year-old footballer has 52 appearances since playing for the Kenyan national team in 2007.
Between his club and national team career, he has managed to score 26 goals in total and remains one of the top footballers in Kenya.
The Harambee Stars do not have a good record qualifying for international tournaments and for this reason Wanyama says the team is not setting any unreasonable targets, they just want to play football and show Africa what they are worth.
Kenya's opening fixture will be against Algeria on June 23, before they face Tanzania and Senegal in their Group C matches.