India U16
AFC U-16 Championship: How can India qualify to the quarter-finals?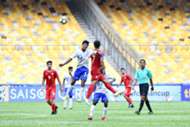 The last group stage game of the AFC U-16 Championship is here and India are close to qualifying for the knockout stages.
More importantly, India is yet to concede a goal in the tournament. India overcame Vietnam 1-0 in their opener as captain Vikram's spot-kick ensured all three points. A goalless draw against Iran saw India grab the second spot in the group at the end of the second game.
Group leaders and India's next opponents Indonesia beat Iran 2-0 but were later held 1-1 by Vietnam. Since a head-to-head table resolves tie-breakers, it's more probable than not that India will qualify for the knockouts.
We analyse the different scenarios associated with group C in the AFC U-16 championship.
Scenario 1: India beats Indonesia
Should India beat the current table toppers, they will qualify as group leaders regardless of the result from the other game.
Scenario 2: India draw against Indonesia
If the India vs Indonesia game ends in a stalemate, the top two from group C will remain unchanged. This means that India will qualify as second from group C. The result from the Vietnam vs Iran game will have no effect on qualification.
Scenario 3: India lose to Indonesia; Vietnam beat Iran
India will qualify as runners-up if Vietnam manages to overcome Iran. Both India and Vietnam will have four points after the final game. However, a 1-0 win over Vietnam means that the young blues will qualify due to a better head-to-head record.
Scenario 4: India lose to Indonesia; Vietnam draws Iran
In this case, Indonesia will qualify as group winners. India will qualify second with 4 points, ahead of Vietnam and Iran who will have two points each.
Scenario 5: India lose to Indonesia; Vietnam lose to Iran
If Iran manage to beat Vietnam and India fail to overcome Indonesia, both the teams will have four points. The teams involved in the tie played out a 0-0 draw and head-to-head won't be able to resolve this. We then go to goal difference (GD). As it stands, India have a GD of +1 and Iran have a GD of -2. Should India lose or Iran win by a margin big enough to turn these number around, the young blues will be packing their bags.
If the GD of the two teams is identical, we use the "goals scored" as a criterion for eliminating one of the teams. If there's still nothing separating the two teams, disciplinary points will decide who goes through. Both the teams are on four yellows going into the last game.
If the tie is still not resolved, drawing of lots will decide which team will play the quarterfinals. If India manages to qualify through this path, they will be placed second